8 April 2010 Edition
Adams urges support for Basque initiative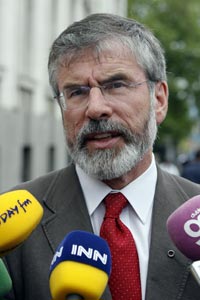 Following a recent public commitment by the Basque pro-Independence group, Abertzale Left, to use 'exclusively political and democratic means and the total absence of violence to attain its political goals' a group of international leaders have published a statement calling on ETA to support a permanent ceasefire and for the Spanish government to respond positively to such a declaration.    
Commenting on the publication of this statement, Sinn Féin President Gerry Adams said: "The conflict in the Basque country can only be resolved through political dialogue. It is clear from this statement that the international community want to help to create such a process.    
"The Irish Peace Process has shown the world that previously intractable conflicts can be resolved. Sinn Féin actively supports an inclusive process in the Basque country.    
"It is now important that the opportunity presented by the political initiative taken by Abertzale Left and the positive statement from international leaders is grasped by both ETA and the Spanish Government.    
"Now is the time for decisive political leadership. It is the time for the rights of the Basque people to be recognised and for a genuine conflict resolution process to be put in place."