1 April 2010 Edition
THE JULIA CARNEY COLUMN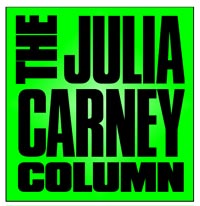 What does the SDLP think of Andrew Doyle?
Here in the Phoblacht bunker it's unclear. Actually, you've probably never heard of Andrew Doyle – unless you're from Wicklow, in which case you probably have but, being from Wicklow, have problems sufficient unto the day to be worrying about.
Andrew is a member of Fine Gael, which some of you might remember means 'United Ireland' in our native tongue. Technically that's Fine Gael's official name though it's not clear whether it's just them being ironic or whether they think Fine Gael means 'right-wing anti-worker bastards with a lengthy history of flirting with fascism'. Some of them have very poor Irish.
So Andrew's been a Wicklow TD since 2007 and has since sat comfortably on the backbenches, religiously claiming expenses and bothering no one. Other that that, and a profile picture on the Fine Gael website that suggests he wears fake tan, I wasn't able to find out much about him.
But last week, Andrew decided to ask a question in the Dáil. It's worth quoting in full.
"To ask the Tánaiste and Minister for Enterprise, Trade and Employment her plans to prosecute companies marketing food products as Irish when they have been produced in the Northern Ireland which is part of the United Kingdom; and if she will make a statement on the matter."
Ahh. Where to begin? First of all, Andrew clearly thinks the North is in another country but he also thinks a minister in the Irish government should be sending cops in to arrest Irish businessmen, suggesting a weak understanding of international law. You can't prosecute people in another country Andrew. Unless you're invading it.
But it does raise another issue. Yes, the North is ultimately administered by a foreign power. It's unfortunate and we're working to resolve the issue, but it's true enough. Thing is, though, a lot of people in the North are Irish. They have Irish passports. They consider themselves to be as Irish as Andrew Doyle, more so I suspect. But many of them, for reasons passing understanding, vote for Fine Gael-backed SDLP candidates.
So here's a question for Margaret Ritchie. Should Irish businesses in the North rebrand themselves British? I always forget whether the SDLP are pre or post-nationalist these days and they've generally been reluctant to be honest enough to put a Union Jack on their posters, but even this might be a step too far for them.
POLL DANCING
Meanwhile, Sinn Féin continues to stagger along, collapsing day-by-day, stagnant in the polls and all that stuff. It's a wonder, boys and girls, that we can push the empty cider cans off our beds and get up in the morning to face the terminal decline of our once proud party.
But it has to be done, if only so we can shred our clothes with our bare hands, don sackcloth and ashes, and weep for what might have been while crying 'woe is me' as we wander the streets penniless.
So the political commentators tell us anyway and we all know they only have our best interests at heart.
But I had a wee thought over the week. The latest opinion poll has us on 10 percent. Now I know what you're thinking. Exactly what are the other 90 percent doing? I hear you brothers and sisters. I hear you.
But still and all, 10 percent is nothing to be sniffed at. John Gormley would club a baby seal to death with the severed limb of an endangered rhino to be on that.
Now, in the 2007 election, which, let's be honest, wasn't great and a bit of a confused mess there at the end of it, we polled 6.5 percent. Obviously those are national figures and our vote tends to be concentrated (in camps, if Fine Gael ever get elected) so I carried out a wee experiment.
The difference between 2007 and now, according to the poll, is about half our share of the vote. So if there was an election tomorrow and each Sinn Féin candidate got half again their share of the vote, how would we do?
Well for starters, we'd comfortable re-elect our sitting TDs. But we'd also take the two Donegal constituencies and re-elect Jack Crowe in Dublin South West without breaking a sweat.
We'd be fighting for the last, or even second last, seat in Dublin Central, Cork North Central, Dublin North East, Dublin North West, Wexford and maybe even Sligo-North Leitrim.
However, fans of Eoin Ó Broin's column will be dismayed to find that even if we increased his share of the vote by half he's still coming last. Not that it matters. I understand we're prepared to swap Dún Laoghaire (but not Eoin) to the Brits in exchange for Tyrone, Fermanagh and the good part of Armagh (you know the bit I'm on about).