1 April 2010 Edition
Gildernew election campaign launched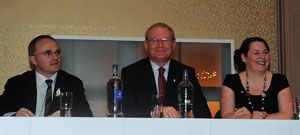 Barry McElduff, Martin McGuinness and Michelle Gildernew addressed a packed hall of over 300 people at the Westville Hotel in Enniskillen last week for the launch of Sinn Féin's 2010 Westminster election campaign in Fermanagh and South Tyrone.
Introducing the standing MP, Michelle Gildernew, McGuinness said that the party in Fermanagh and South Tyrone is strong and ready for the challenges ahead, confident that the seat will continue to be held by Sinn Féin. "The work of Michelle Gildernew as MP and as a minister has been second to none," he said. "I would also say that her contribution over many years to the Peace Process and to the many difficult negotiations that republicans have been involved in has been invaluable".
Gildernew spoke of the pride she felt in being selected to defend the seat again and stressed her commitment to agriculture and to bringing employment to the constituency. "We all know how difficult things are for ordinary working people and their families at the moment. I am determined to do everything possible to secure the economic future of Fermanagh and South Tyrone and in the time ahead I shall continue the important work of addressing disadvantage and social need, not only in the rural areas, but throughout the constituency," she said.