1 April 2010 Edition
Anger at cynicism involved in latest anti-Sinn Féin book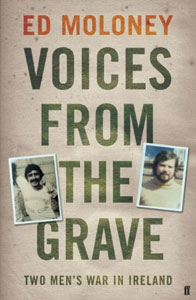 BY ART MacEOIN

There was a certain amount of media focus this week on the publication of a new book by Ed Moloney and Anthony McIntyre, which carries claims made in interviews McIntyre carried out with the late Belfast republican Brendan Hughes some years before he died and when he was in poor health and politically estranged from his former republican comrades.
The book, Voices from the Grave, is really a re-run of claims made in Moloney's previous book, The IRA, a Secret History, which amounted to an attempted hatchet job on Sinn Féin and the IRA in general and on Sinn Féin President Gerry Adams in particular.
A bewildering mishmash of conspiracy theories and innuendo, relying almost entirely on unattributed sources and bar-room style gossip, the book had nothing to do with serious history or journalism. Its author's obviously shallow understanding of the nature and objectives of the republican struggle led him to make unbelievably facile assumptions about political developments over the past two decades.
But it's not just that Moloney has a poor understanding of what he's writing about; he also has a clear agenda. Former Northern Editor of the Sunday Tribune, Moloney was at one time a fairly prominent reporter on the conflict in Ireland. However, with the development of the Peace Process his articles and opinions were increasingly out of sync with changing political conditions. He then moved to the USA.
Many believe that the fact that Gerry Adams is the public figure most closely associated with the Peace Process may go some way to explaining his hostility to the Sinn Féin leader.
Moloney's partner in writing the latest book, Anthony McIntyre, has long been a very vocal critic of Sinn Féin. In numerous books, newspapers, magazines and blogs, one or other of these authors has attacked either the IRA or Sinn Féin leaderships or Gerry Adams for the political initiatives they have all taken in recent years to steer a path from conflict to peace. The purpose of their latest publication is abundantly clear – to undermine the republican struggle, to politically damage Sinn Féin and to do so by attacking the party leader Gerry Adams.
Commenting in his Blog (www.leargas.blogspot.com) Sinn Féin President Gerry Adams writes about the Moloney/McIntyre book and his relationship with Brendan Hughes, the IRA and the need for a truth recovery process.

"An old friend of mine, Brendan Hughes, has been in the news this week.
The Irish News actually devoted eight pages on one day and three pages another day to a book containing interviews with Brendan.
This book by Ed Moloney and Anthony McIntyre appears to be a rerun of an earlier tome by Ed Moloney in which he rants at length against the Sinn Féin leadership in general and me in particular. He and Anthony McIntyre have a long history of opposing the Sinn Féin peace strategy.

They have written books and countless articles attacking me, and in its time the IRA leadership, for taking political initiatives and charting a path out of conflict to peace.
I knew Brendan Hughes well. Better than Ed Moloney or Anthony McIntyre. And I cared more for him and about him than they ever will. Sometime I hope to get the space to reflect on my life with Brendan and the separate twists and turns of his life, and mine.
He wasn't well and hadn't been for a very long time, including during the time he did these interviews.
He also carried with him an enormous sense of guilt over events surrounding the first hunger strike. This made him very vulnerable, even before his health deteriorated. However, that is no excuse for his involvement in this book.
Brendan also opposed the Peace Process. That was his right. His assertion that the struggle was not worth it is wrong.
The fact is that the decisions taken collectively by republicans have improved the quality of life for people across this island; have ensured the growth of republican politics and created a new and dynamic context in which there is the potential to achieve reunification and independence.
Brendan could and should have been part of this. For a mixture of reasons he wasn't. That was his choice. Like everything else he was involved in. Big boys didn't make him do it.
I reject any suggestion by Ed Moloney, or anyone else for that matter, that I have ever sought to distance myself or to disassociate myself from the IRA. Anyone who recalls the years of conflict and the countless interviews I gave and still give, in which this issue is raised, will know that I am the person most frequently interviewed about the IRA and who defended the right of the IRA to engage in armed struggle, which thankfully now has ended.
I am proud of my association with the IRA.  It was not a perfect organisation and it made many mistakes. Its business was war and in the madness that is war the IRA did many things which deeply hurt people. I regret that very much and I have worked with others to ameliorate this.
Some victims' families do not accept this. That is their entitlement. I reject absolutely any accusation that I had any hand or part in the killing and disappearing of Jean McConville or in any of the other allegations that are being promoted by Ed Moloney.
The issue of the disappeared is a terrible legacy of the conflict. A grievous wrong has been done to these families. Republicans are trying to right this wrong and have been trying to do so for some years. The effort to do this was initiated by me after I was approached by some of the families involved.
There are many other initiatives, mostly private, to bring healing to victims of the conflict. Republicans are very centrally involved, in personal as well as more formal elements of this.
Some of the allegations made against me are very serious indeed and, bizarrely, by an accuser who is not here to stand over his claims. I feelsorry for him. Every other republican I have spoken to has a totally different view. As I have said before on other occasions there are many people who would be prepared to give an account of their actions during the war and who would have the courage to do this while they are still alive. A process to do this is needed.
They include republicans, loyalists, unionist politicians, British politicians and British state forces. And me. I have made it clear to both governments and in public remarks that the legacy of the past requires an independent, international truth commission to be established by an acceptable and reputable international body. It is a matter of public record that I personally would be prepared to give evidence and to encourage others to give evidence to such a genuine truth recovery process.
As for Brendan? Go ndéanfaidh Dia trócaire air."
The fact that Ed Moloney and Anthony McIntyre have cynically used Brendan Hughes to further their own agenda has deeply angered many republicans. On Tuesday An Phoblacht spoke to a number of republican figures in Belfast about the book and the claims in it attributed to Brendan Hughes. This is what they said:
"I knew Brendan as a friend and comrade. When I heard about the book coming out I assumed it would not be damaging to the Army or the struggle and whilst Brendan, like everyone else, is entitled to his political views I was nonetheless surprised at the degree of malice he displayed, especially against his longtime friend and comrade Gerry Adams. I had hoped it would be more about his own political analysis and his involvement in this struggle.
"Also, given the time lapse since Brendan passed away, it is quite obvious to me that the timing of the book's publication is more about influencing and coinciding with the upcoming Westminster elections than about Brendan's actual story."

Sean 'Ginty' Lennon (republican ex-POW)
"My reaction to the book is really focused on the people who manipulated Brendan at a very vulnerable time in his life. He was a good republican and a good friend. Shame on those people who have used Brendan's reputation to further divide republicans, which to be honest only serves their own self-interest and Ireland's enemies.
"It is anathema for names and details of IRA personnel and operations to be laid bare like that, which serves no one but the enemies of republicanism."
Joe McKee (Belfast republican)
"Like many republicans, I am angry at the way in which Brendan Hughes has acted. If I was making an allegation against anyone I would make it and then stand over it. Doing interviews and demanding they are kept secret until you are dead and beyond challenge reflects badly on him.
"People are obviously aware that he was unwell and that others extremely hostile to Irish republicanism were the prime movers behind the book. Republican activism is about integrity and honour. None of these qualities are displayed by anyone involved in this project.
Mary McArdle (Republican ex-POW)
"Brendan Hughes was a man I was privileged to have known and to have been of service to in times of need. I'm saddened and angered that someone like Brendan was manipulated at a tragic stage of his life by people who are clearly enemies of republicanism.
"Whatever differences or disagreements we have with each other, attacking the integrity of the proud history of our struggle and those who've served it is not how to resolve those differences. Shame on those who are doing this."
Leo Wilson (veteran Belfast republican)
"I think 'the Dark' was wrong to agree to this book. Whose cause does it serve? Certainly not the cause of republicanism. Like Richard O'Rawe's book it serves only to denigrate other republicans. I joined the struggle to fight against the British. Anyone who knew 'the Dark' was aware he had major psychological problems in the latter years of his life and that should be taken into account when reading this book. But the question remains as to why he didn't agree to publish it while he was alive and then stand up and defend it."
Pat Sheehan (former Hunger Striker)
"It is clear that the cause of Irish unity or defending the integrity of the republican struggle is not the purpose of this book! Many, many republicans are surprised at Brendan Hughes's comments about comrades and issues contained in the book, recognising their intent to damage, not to promote, republicanism.
"Within the republican family there is a spirit of generosity and latitude for comrades damaged or devastated through struggle. However, when that turns to bitterness and recrimination we know when a line is crossed and people are trying to damage the struggle. Whether it is Ed Moloney exploiting the vulnerability of the Dark or the Irish News on its anti-Gerry Adams crusade, it is clear that a ruthless, vindictive media agenda is being pursued by exploiting the vulnerability of others"
Bobby Storey