18 March 2010 Edition
Bloody Sunday families in U.S. and London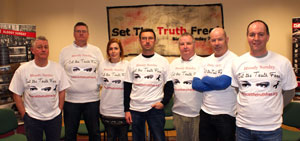 Representatives of the Bloody Sunday families are this week in London and the United States to further highlight the need for urgency and vigilance regarding the long-awaited release of the Saville Report.
John Kelly (brother of Michael Kelly) and Jean Hegarty (sister of Kevin McElhinney) will travel to Washington to coincide with planned events at the White House and will meet senior U.S. politicians to appraise them of recent developments concerning the imminent release of the Inquiry Report.
John Kelly in a statement said: "We feel that it is very important to take our just demands of truth and justice at this time to both Britain and the U.S. Just hours after our loved ones were mown down on the streets of Derry by the Parachute Regiment, the British Embassy in Washington were able to describe and condemn the dead as gunmen and bombers.
"We cannot allow an open field for the British Government, either officially or unofficially, to stage and manipulate the release of the report for their own ends. While we are confident that our long campaign for truth and justice will be completely vindicated, the next few weeks will be crucial in seeing the hated Widgery Report entirely repudiated."
London
Meanwhile several relatives travelled to London on St Patrick's Day to reclaim the history of Bloody Sunday at 10 Downing Street, the Ministry of Defence and Buckingham Palace as part of the Set the Truth Free Campaign.
In order to illustrate this, family members will return an original copy of the Widgery Report to 10 Downing Street on St Patrick's Day, symbolising the end of Widgery's 38-year tenure as the only official British record of Bloody Sunday. At the MoD the families will return the infamous shot list drawn up by former Chief of General Staff of the British Army General Mike Jackson.
At Buckingham Palace, the families will hand in a list of the dead and injured to remind the British Monarch of the real heroes of Bloody Sunday. Months after the massacre the Queen decorated Para commander Lt Col Derek Wilford, awarding him an OBE.
Tony Doherty (son of Patrick Doherty) said: "Wilford was no hero – the dead and the injured were the real heroes who went out that day to demand civil rights and ended up as targets for the Paras. Wilford should be stripped of his honour."
Campaign organisers wish to extend their gratitude to the AOH in both Derry and America for their financial support.
Families also announced that there will be a rally this coming Saturday, 20 March , in Derry – with details to be announced later this week.