18 March 2010 Edition
Ó Caoláin urges referendum on children's rights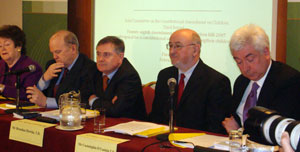 CAOIMHGHÍN Ó Caoláin, Sinn Féin Dáil Health and Children spokesperson has called on the government to table legislation to hold a referendum on the issue of children's rights as a matter of urgency. He was speaking on Monday during the Dáil debate on the publication of the third and final report of the Joint Committee on the Constitutional Amendment on Children.
Ó Caoláin served on the committee, which met on 62 occasions over the space of two years. "The timely publication of this report presents an important opportunity to strengthen children's rights in this state," he said.
"The amendment should also go some way to addressing some of the legal obstacles affecting the child protection system. If an amendment such as the one contained in the report was enshrined in the Constitution, the state would have sufficient legal power to intervene on behalf of all children at risk, regardless of their parents' marital status.
"Sinn Féin is now calling on the Government to table legislation to hold a referendum on the issue of children's rights as a matter of urgency.
"At the moment, the law and policy governing children's rights and child protection is not only unsatisfactory, it is archaic and verging on the disgraceful. The Minister for Health and Children and the HSE hide behind the excuse of 'protecting the identity' of the children who died in their care. This is a sad reflection on the reality that the HSE's 'care' for these children only began when they died.
"Conducting an inquiry and writing a report containing recommendations on the plethora of inadequacies throughout the state's care system is too little too late if the recommendations already made are never published, let alone implemented.
"At the recent Sinn Féin Ard Fheis a motion commending the work of this committee and committing our party to pro-actively encourage the electorate's support for a referendum along the lines we have recommended was unanimously adopted.
"I very much welcome that endorsement and urge government to bring forward, and by the earliest date possible, the natural outworking of our efforts – a referendum proposal that will enshrine the rights of children in our constitution."
CHILD PROTECTION
In backing the referendum, Ó Caoláin set out the context of the need for greater protection of children, as highlighted by recent tragedies. He told the Dáil:
 "While Sinn Féin has for long advocated enshrining children's rights, we must remember that there are not only legal issues to be resolved in order to enhance the rights of children.
"We have recently seen the admission by a senior HSE representative that there are more than 20 reports on the deaths of children in State care awaiting publication. Despite the repeated questions on these reports that I put to the Health Service Executive, via the Minister for Health and Children, and which went repeatedly unanswered, it took the publication of a report by another member of the Joint Committee for a representative from the HSE to actually acknowledge that these reports existed. Information was wilfully withheld by someone in the HSE who stated that the information I was seeking was 'difficult to collate'. There is no room for any more cover-ups on children in state care and there is no valid excuse for the delay in publishing such reports.
"If we as members of the Oireachtas, as parents, and as people residing in this State, are to entrust the care of those children whose families can no longer care for them to the State, then the State's care regimes must be accountable and they must be fit for purpose.  
"This is not just an issue of referendums and changes in law. An amendment that does not bring with it adequate increases in resources for child services will be utterly meaningless.
"This State has been dysfunctional when it comes to children's rights. We only have to look at the Tracey Fay report for a horrifyingly graphic illustration of that.
LARGE-SCALE REFORM OF CHILD POLICY
"It is only now that the HSE are admitting that not all children in state care have an allocated social worker. Some children that do have social workers might not see them for years at a time. The Roscommon child abuse case showed us that even where there are allocated social workers for children, terrible abuse and neglect will continue. Where relatives become foster carers for children, they are not always vetted. The HSE could not even give a straight answer when I asked them if all of their employees who worked with children were vetted. A clause in the constitution for children will be toothless if there is not a large-scale reform of child policy.
"Enshrining children's rights in this manner will ensure that the best interests of the child will be paramount in matters concerning their custody and guardianship. This will provide a valuable platform as we all work towards ensuring that the best interests of the child becomes paramount in all matters concerning the child – a cornerstone of the UNCRC. This legal change will mean that social services will have the capacity to intervene where the child's parents are married and children's rights will not be viewed as secondary to the rights of the marital family but rights in their own right.
"Sinn Féin pressed strongly for the insertion in the proposed wording of a commitment to have the voices of children heard. This is integral to the rights of the child. Acknowledging that particular right is imperative to the wider rights of children. The Child Care Acts 1991 and 1997 permit the appointment of a Guardian Ad Litem for a child involved in court proceedings, at the discretion of a judge. We must look to international best practice in this area to reform the current processes. In Scotland, a Guardian Ad Litem will automatically be appointed unless there is a major reason why this should not happen. Sinn Féin believes we should be aiming for the highest standards for our children.
"It is a shame that it has taken almost two decades to arrive at a cross-party agreement on children's rights. Consistently, this and previous governments have failed to acknowledge the deficiencies in child policy and law.
"The rights children will now, hopefully, be given must be complemented with sufficient resources. Teenage mothers and fathers, who are themselves children, must be supported to, if at all possible, continue their education while parenting. Children with cystic fibrosis must have the right to adequate and appropriate healthcare. Social worker posts must be filled and resourced, children with mental health issues must be seen and supported immediately, and not forced into adult wards. Parental support mechanisms must be in place. Children at risk must be listened to before it is too late, and before they become the subject of yet another internal HSE report. Crisis management cannot be the cornerstone of how children are dealt with in this state.
CHILDREN PLACED IN CARE
"There needs to be joined up thinking when it comes to policies affecting children. Take housing policy for example, which is geared towards purchasing homes, with those who cannot afford housing left to the mercy of a local authority waiting list – in some cases for up to 5 or 6 years. In a question I put to the Minister for Health and Children, it was discovered that in 2007, 1,342 children were placed in care under the heading 'Family Unable to Cope/Family Difficulty Re Housing/Finance'. 193 families (6%) of those reported to be having difficulties had children placed in care as a result of their having housing or finance difficulties.
"It is unacceptable that a child may be removed from the home because of housing or finance difficulties when it is not in their best interest. 25% of all children placed in care are entered into this system because the State has failed to provide their family with the support they need. Those children are not in care because they are being abused. They are in care because the State has not provided their family with an adequate home or the means to support themselves.
"Would the State not be better off ensuring that the child remains with its family (if it is in the child's best interests) and providing them with an appropriate home rather than putting them in care? Why is the State willing to give a foster-carer €325 allowance a week but not provide financial support to keep a family together when it is in the child's best interests? This is unacceptable – because when a child enters the care system, the State will fail them again, unless the Government holds this referendum and then provides the resources to make the new constitutional rights of children meaningful. A new approach is clearly needed. This is only one aspect of the children's rights debate.
CONSISTENT POVERTY
"There are still over 76,000 children living in consistent poverty in this State, with almost 20% of all children being at risk of poverty. It is claimed that there are hundreds of children who sleep on our streets at night, and there are thousands of children who reside within a care system that is not resourced to the level required to meet their needs. A substantial number of children in the 59,000 families languishing for years on end on social housing waiting lists are living in substandard accommodation that is damp, over-crowded and of general poor quality which exacerbates the detrimental effects on children's well-being. Children still go to school hungry. Children still go missing from HSE care and some are never found. That this is still the case in this State in 2010 is a reason in itself to enshrine children's rights in our Constitution.
"We believe in cherishing all the children of the nation equally. For us, this means all children regardless of their family background, whether their parents were or are married or not, regardless of their economic status or gender or ethnicity. We believe children should be cherished equally. This will not be achieved by a mere statement of intent being inserted into the Constitution. We believe that all children have a right to education, a right to a home, a right to play, a right to be healthy, and a right to feel safe and to be heard, and the proposed constitutional amendment that we have collectively recommended has the potential to affirm those rights."