18 March 2010 Edition
Nuclear power is back: dangerous, costly and still deadly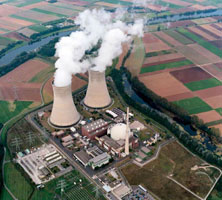 BY ROBBIE SMYTH
Nuclear power is back in Britain, still unsafe, still having corners cut, and with serious questions raised about the safety of the new generation of reactors planned for existing British nuclear sites in what the British Government calls a "nuclear renaissance".
The reality of this renaissance is that planning and environment laws are being circumvented to speed up the new generation of nuclear power plants in Britain, even though shocking new revelations raise safety concerns about the new plants.
Britain is set to build £200 billion of energy infrastructure, much of it nuclear, over the next ten years. The British Government has created a new quango, the Infrastructure Planning Commission, to streamline the planning processes, yet the incoming chairperson has admitted this week that many councils won't have the resources to review applications which, especially in the context of new nuclear plants and facilities, will be extremely complex to assess.
£30 billion is being earmarked to fund 10 new stations with the British government spending £21 billion.
Much more worrying is the safety of the new plants being considered for construction. French firm EDF is leading the way and wants to site four of its European Pressurised Reactors (EPRs) in Britain, the first of which may be operational at Hinkley in Somerset by 2017.
Documents leaked by a whistleblower at the firm show that results of tests on the EPR given to a French anti-nuclear group reveal, according to Greenpeace, "defects in the mechanism that controls the nuclear reaction", which "could cause an explosion sending a massive cloud of radiation into the atmosphere".
It has already been revealed that the scale of radioactive isotopes that could escape in an accident than are eleven times greater than those in present-day reactors.
There are also other concerns, such as storing nuclear waste. One example of the planning challenges facing local communities from new nuclear power investment is the case of Northamptonshire council, which is planning to allow waste management company Augean store up to 250,000 tonnes of radio active debris at a landfill site in the county.
Local residents are opposed to the plan, and have cited examples of their fears, such as an access road into the dump that had to be resurfaced because "the liquid dripping out of the back of the lorries dissolved the tarmac".
Locals were offered a community fund of £5 per tonne of waste but one campaigning residents group said this week: "Who wants a couple of tennis courts and a five-a-side football pitch when nuclear waste is sitting at the end of the road."
The proposals to store dump nuclear waste in landfills was ordered by the New Labour Government. They approved using the landfill sites in Cumbria as the existing low level nuclear waste site at Drigg is reaching full capacity as the decommissioning of old nuclear plants continues.
The decommissioning process is not without controversy, not just because of the £73 billion and rising costs, but because there are still unanswered questions about the abysmal safety record of British Nuclear Fuels and in particular their Sellafield site.
This controversy has been reopened in recent weeks by the publication of a memoir by a former BNFL director, Harold Bolter. The Tenth Child reveals that workers at Sellafield were advised not to have children because of cancer fears in the workforce.
As recently as last December, Sellafield's owners pleaded guilty to a criminal prosecution after workers were exposed to radiation while refurbishing a floor at a plutonium storage facility on the site.
Criminal prosecutions, and breaches of health and safety regulations, do not seem to have any impact on bonuses for executives at Sellafield, however. Earlier this month it was revealed that Sellafield management were to receive a £50 million "well done " bonus on top of a £16.5 million dividend, all paid for by the Nuclear Decommissioning Authority.
It is estimated that the 19-member top management team in Sellafield today will share salaries of £8.6 million for the 2009-10 financial year.