18 March 2010 Edition
Doherty reiterates Omagh bomb inquiry call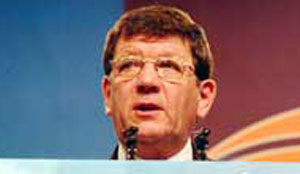 Sinn Féin West Tyrone MP Pat Doherty has reiterated his call for a full cross border public inquiry into the 1998 Omagh bombing.    
He was speaking following Tuesday's publication of a report by the Westminster Committee on affairs in the North, which is calling for a new investigation to be set up to examine whether vital intelligence was withheld which could have prevented the bomb and whether enough was done to apprehend those responsible.
"In the wake of the bomb in Omagh both governments and their state agencies promised the families of those killed that no stone would be left unturned in the pursuit of justice," said Doherty.    
"The findings in today's report by the NI Affairs Committee are but further evidence that the Omagh families will not receive justice through the normal state mechanisms.    
"The reality is the only mechanism that can deliver for these families, given the failure of the police investigations, is a full cross-border public inquiry into the events before, during and after this horrific bombing."