11 March 2010 Edition
Community safety, accountability and child protection raised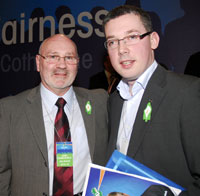 Policing Board member Alex Maskey addressed the Ard Fheis discussion on justice, policing and community safety, describing the Hillsborough agreement that secured a date for the transfer of powers on policing and justice as a "truly welcome development" that showed Sinn Féin are "delivering on our mandate".
The Ard Fheis reaffirmed that delivering accountable and progressive policing to communities through working on the oversight, accountability and engagement structures Sinn Féin demanded as part of the Good Friday Agreement was essential
Challenges remain in the transformation of policing, Maskey said, "whether it is that inbuilt resistance to change in the PSNI, abuse of powers like Stop and Search or the denial of the truth to countless families through delayed and denied inquests – but we are well up for those challenges on behalf of those we are privileged to represent".
"Community safety is paramount. The criminal justice system, including the Public Prosecution Service, has to change and embrace that change. Just ask the Holland or Devlin families. We have worked hard to make policing better and there has been considerable change but much more needs to be done," he said.
"Our members will continue to drive forward our agenda, delivering a police service we can support, as it breaks from the past and looks to the future. We believe we are making good and steady progress as the Policing Board and DPPs engage more with communities, including as Gaeilge."
Fellow Policing Board member North Antrim MLA Daithí McKay said the PSNI must immediately suspend the use of Stop and Search powers under Section 44 of the British Terrorism Act, saying the recent European Court of Human Rights ruling that the powers were an abuse of human rights must be heeded by the PSNI.
The Ard Fheis voted to continue to advocate a community and multi-agency partnership approach to policing; to ensure that local policing plans genuinely meet community needs; and to continue to challenge both abusive and negligent or unprofessional policing.
CHILD PROTECTION
Another issue discussed during this Ard Fheis section was that of strengthening child protection across the island.
"Sinn Féin promotes a rights-based approach to children's issues and remains committed to holding a referendum that will enshrine children's rights in the 1937 Constitution," Sinn Féin's Spokesperson on Children Caoimhghín Ó Caoláin TD said.
The Ard Fheis commended the work of Ó Caoláin in the Oireachtas Joint Committee on the Constitutional Amendment on Children.  
It noted the lack of Irish Government progress in its response to the Ryan Report and called for the implementation of its recommendations.
The conference called for an inquiry in each diocese in Ireland, along similar lines as that carried out by Judge Yvonne Murphy into the handling of cases of abuses of children in the Dublin Diocese. It also supported a call for a full public inquiry into the treatment of children in Church and State-run institutions in the Six Counties and for the Assembly and Executive to do all in their power to ensure full accountability and redress for the suffering of victims and survivors of abuse in Church and State-run institutions.