11 March 2010 Edition
O'Dowd says Stalker/Sampson must be published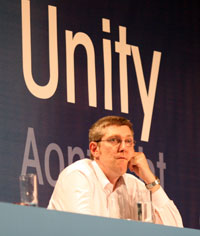 John O'Dowd this week witnessed the ongoing legal wrangle in the High Court between the PSNI and the coroner over access to the Stalker/Sampson Report in relation to six men shot dead by the RUC in North Armagh in 1982.
Speaking afterwards, the Sinn Féin Assembly member for Upper Bann said:  "The adjournment of today's hearing is yet another delay faced by the families in their pursuance of the right to have an Inquest into their loved ones' deaths completed  
"It is imperative that the PSNI release the Stalker/Sampson report to the Coroner and the families' legal representatives. The families of Gervais Mc Kerr, Eugene Toman, Seán Burns Roddy Carroll, Seamus Grew and Micheal Tighe have been campaigning for nearly three decades for the completion of their Inquest.  
"Last Monday, Sinn Féin met new PSNI Chief Constable Matt Baggott, and called for the full disclosure of the Stalker/Sampson reports to the legal representatives of these families.  
"Sinn Féin has made it clear to PSNI Chief Matt Baggott that while this delay is not directly of his making he has now responsibility to resolve it.  The resolution lies in the full disclosure of the Stalker/Sampson Reports to both the coroner and the legal representatives of the families without further delay."