11 March 2010 Edition
Time for coalition to stand down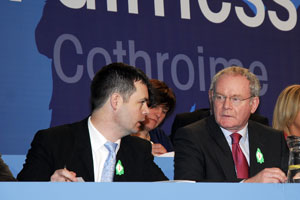 BY ELLA O'DWYER
The job creation debate saw delegates identify the government's lack of strategy on employment;  the fallout of that ineptitude – particularly emigration – and the need for this government to be  decommissioned.
Senator Pearse Doherty, speaking directly to one of the worst outcomes of recession in Ireland, emigration, said "jobs are far from a priority for this government".  The coalition, he said, "has no plan and no strategy on job creation. We all know people who have lost their jobs while they see banks bailed out." The unemployed, Doherty said,  "are angry that nothing is being done to help them. They are struggling to get by on reduced unemployment benefits and some are facing the repossession of their homes while others are packing their bags."
Emigration has plagued Donegal for generations. "I can see the impact in Donegal – emigration has been our past; it must not be our future. But young people don't feel they have a future in that county and they don't feel they have a future in Ireland. Young people don't believe anything will be done to create jobs. We can't afford a government that sits on its hands while jobs continue to be lost."
Mícheál Mac Donncha spoke in support of an amendment opposing 'workfare', a system that makes work a condition of receipt of a welfare top-up and could result in a financial penalty if the individual chooses not to accept a particular work offer.
Rounding off his contribution, he congratulated Limerick's Maurice Quinlivan for his contribution to the decommissioning of former Minister Willie O'Dea.  "I'd like to commend our comrade Maurice Quinlivan for playing his part in putting a Cabinet Minister out of a job. I look forward to all of us playing our part in putting the whole lot of them out of their jobs."  Judging from the size of the applause, Mícheál's sentiment was a shared one.
Meath Councillor Paul Hogan spoke on Sinn Féin's job creation proposals. "Last year, our party published over 80 innovative proposals to get people back to work, by retaining the jobs we have and creating new ones."
Waterford Councillor David Cullinane said: "440,000 people are out of work in Ireland and there are people behind those individuals – real people with bills to pay; mortgages and families to support. They have been abandoned by this government. The most distressing thing is that it doesn't have to be like this.
"The government blames it on the international downturn, but if the government had taken on Sinn Féin's job creation and retention proposals those people would not have to be on the dole."