11 March 2010 Edition
THE JULIA CARNEY COLUMN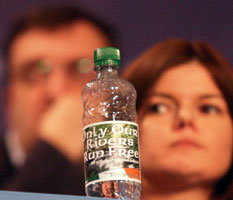 Only our rivers run free
I have been told there were debates at the Ard Fheis. Delegates strode purposefully to the podium, notes in hand, to address their colleagues with earnest looks upon their faces. "No to coalition," some cried. "Yes to the devolution of policing," said a few. "Death to the evil fascist conspiracy that is An Taisce," cried others (bizarrely not an exaggeration). "I have the right to kill hares and if you don't agree with me I'll kill you and everyone you care about," said another (fair enough, exaggerated... slightly).
So they tell me. I was in the pub myself, occasionally rambling outside to give people from Belfast the wrong directions to the RDS. Two of them are still in Pearse Street as I write. But none of that was important. It didn't matter. Ah, I'm sure some of the policy people took it seriously. The types who actually read our manifestos and understand what economists mean when they talk about a counter cyclical approach to the economy, which has nothing to do with bicycles by the way. But no one bothers about them. Glasses-wearing Maoists if you ask me.
No, in years to come we will look back to Ard Fheis 2010 and remember it in the same way Bill Gates remembers his first computer or Ronald McDonald remembers the place he sold his first hamburger. 
Ard Fheis 2010 was when Sinn Féin finally fulfilled its destiny and entered the bottled water business. Blue gold my friends. Well colourless gold if truth be told, but gold nonetheless.
And this is just the beginning. We can expand to flavoured waters, coloured waters, water with vitamins in it, water with gin in it, gin. We're limited only by our imaginations and the licensing and environmental laws of this state.

You think I'm joking? Geoff Read, a shoe salesman, founded Ballygowan in 1981. When he went on the Late Late Show in 1983 he was laughed at. People thought he was a fool.
Now every year Ballygowan, owned by Britvic these days, produces 73 million bottles of water. In 2007 we as a nation drank 193 million litres of bottled water, that's almost 45 litres per person. And that was before we discovered the water in Galway and Wicklow was unsafe to drink (thank you, failed Fianna Fáil environment policy) forcing tens of thousands of people to switch to buying bottled water by the gallon.
But here's the best bit. The profits from the Only our rivers run free come back to the party. Every time you buy a bottle, you're not just tasting a united Ireland (technically you're tasting Carrickmacross but never mind the facts, man, feel the poetry) but you're helping to bring it about.
Forget about these ethical gimmicks those other fly by night, Del Boy Trotter, companies like Tipperary Water come up with. 'Buy three bottles of our muck and we'll send a goat to Uganda or Kerry or wherever'. Sure they'd only set it chasing after a hare or something and then what have you? That's right. A dead hare, a bewildered goat and three bottles of inferior brand water. Why not buy some magic beans while you're at it ye eejit?
But if you buy a couple of bottles of Only our rivers run free you enjoy a tasty beverage to cool you down in the heat of an Irish summer and you pay for a couple of hundred leaflets. Get Only our rivers run free into your office water cooler for a month and you pay for three full-time Ógra activists who can be worked like dogs.
Now I know what you're thinking. "How can I join this bottled water revolution?" I'm glad you asked me. Firstly, you need to persuade your local retailer to stock our brand. Assign each cumann member and members of their families a day of the week to go in and ask the guy behind the counter for a bottle of Only our rivers run free. If they don't have it, look disappointed and a little disgusted, as if the shop sells the Daily Mail. Shake your head and walk out buying nothing.
If this happens often enough, they'll buy our stuff in. But that's only step one. Now we need to run down the other brands. Next time you're in the queue and there's a woman in front of you with a bottle of (deleted for legal reasons) mention loudly how your sister got (deleted for legal reasons) from (deleted for legal reasons) but she was cured by drinking Only our rivers run free. True story.
We'll be rich comrades. And then, we'll buy back the North and live in houses of gold like the Proclamation promised.

• Julia Carney would like it noted that she was not paid for this article's shameless advertising of a commercial product. However, she is willing to be.