11 March 2010 Edition
Another View by Eoin Ó Broin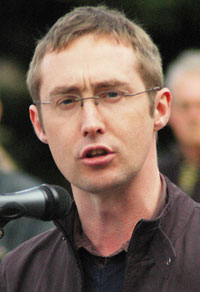 Vincent Browne is wrong
Vincent Browne is wrong. Writing in his Irish Times column this week he argued that Sinn Féin, like Labour and the Greens, want to be in government with Fianna Fáil or Fine Gael after the next election.
If Vincent had taken the time to listen to the full coalition debate at the Ard Fheis or to carefully read the content of the motion finally agreed he would have come to a different conclusion.
Unfortunately, his opinion piece misrepresents the content and outcome of the coalition debate. It also completely ignores the very substantial policy agenda agreed by delegates at the RDS on Friday and Saturday.
During the coalition debate I spoke strongly in favour of Motions 18 and 19 and against the Ard Comhairle amendment to Motion 19.
I listened carefully to the contributions in support of the Ard Chomhairle amendment from Caoimhghín Ó Caoláin, Pearse Doherty and Martin Ferris.
Nothing in their speeches indicated that they believe that entering a Fianna Fáil or Fine Gael coalition would advance our struggle. Indeed all three speakers stated that they were in agreement with those of us supporting the un-amended motions.
The final agreed motion said that; 'A Fianna Fáil-led government and a Fine Gael led government would be essentially the same and presume almost identical policies, these policies are incompatible with Sinn Féin policies.'
It also said that Sinn Féin would 'only contemplate entering a coalition government on the basis of a programme for government rooted in republican principle, agreed and approved by a special delegate conference. Such a programme for government would have to advance Irish unity and pursue a new economic strategy based on creating sustainable employment and a fair taxation system and the provision of high quality public services.'
At other stages during the Ard Fheis Sinn Fein delegates agreed a policy agenda almost identical to that advocated by Vincent in his Irish Times column, including: a publicly funded universal one-tier health service; a cap on public sector pay; and a focus on social and economic investment in communities that never benefited from the boom and are now made to pay the cost of the bust.
Crucially, we agreed a comprehensive public finance policy that would provide for substantial investment in job creation and universal public service provision while at the same time addressing the structural poverty and inequality in our society.
Sinn Féin is now the only political party on this island providing leadership on the issue of tax justice.
Of course Vincent Browne is not completely wrong. He is right when he says that those who want a just society must form a left alliance. Gerry Adams called for such an alliance at our Ard Fheis in 2009 and repeated the call last weekend. This call was repeated by delegate after delegate at the Ard Fheis, including all those who spoke on both sides of the coalition debate.
Sinn Féin does provide a home for advocates of a just society and our party will continue to advocate for and actively build that alliance for change in pursuit of a united and equal Ireland.