11 March 2010 Edition
New thinking and new ideas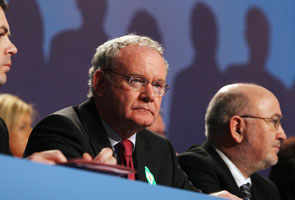 Address to Ard Fheis by Sinn Féin chief negotiator Martin McGuinness
"On Thursday evening I organised a meeting between Shaun Woodward and the Bloody Sunday families. There is an expectation in Derry that finally after all the years of campaigning the truth of what happened on that day is close to being acknowledged. The Bloody Sunday families are an example to all of us, their commitment, their perseverance and their dedication to uncovering the truth has been unswerving and I pay tribute to them from this Ard Fheis. There can be no further delay on publishing the Saville Report.
Last night we had a lively debate here on the issue of coalition. It put me in mind of Fine Gael leader Enda Kenny on The Late Late Show a few weeks back.
Enda seemed fairly certain that he wouldn't go into government with Sinn Féin but seemed less sure about exactly why. Well let me help Fine Gael out – a bit like George Lee, we have no interest in government with them or their policies.
More of the same isn't what is required in the Ireland of 2010. We need new thinking and new ideas.
The failed policies which led to an over-reliance on construction, an inflated property bubble, an inequitable tax system and a lack of planning for the future have produced soaring unemployment, and the return of emigration as a social problem.
Fine Gael's policies have been no different to those of Fianna Fáil on any of these key issues.
But I have to say unlike Enda Kenny I do know what it is like to operate a coalition government. In case it has escaped his attention I jointly head one. Unlike his party colleagues, Sinn Féin Ministers take decisions day and daily which impact on the lives of Irish citizens. Collectively as an Executive we have had to face up to the same problems as the Fianna Fail/Green coalition here in Dublin.
We operate on the same island, within the same global economic pressures, with the same problems. However I would argue with credibility that we have taken a different approach.
I do not buy the argument that because we are in an economic recession those who caused it need protected and those who have to pay for it are ordinary working families the length and breadth of this state. That is simply wrong. The race to the bottom that is underway must end and the deliberate targeting of the income of working families and public services is not the answer to sorting out this economic mess.
Every young Irishman and woman being forced to emigrate, or sitting at home without hope of a job is not simply a statistic. Each one of these talented young people are an indictment of the way in which the Irish Government squandered the wealth generated in the good times and failed to put any planning in place for a downturn. The current state of the finances is not an accident – it was the inevitable result of the shameful and shoddy way that the Celtic Tiger years were managed.
But recrimination won't get Ireland out of this mess. In the north we set out building the economy as a key strategic goal of the Programme for Government. We are often criticised by some for having an economy too dependent on the public sector. I have to say our ability to weather this economic storm has been in no small part due to the fact that we have a strong public sector, with committed public sector workers, and an Executive with a strong commitment to investment in those workers and in that sector.

Managing an Executive without tax varying powers means that investment in the public services is one of the main ways with which we can stimulate jobs and growth in the six counties.
As an example, over the past 12 months the Education Minister Caitríona Ruane has overseen the completion of 14 major school building projects with another two due for completion shortly. Michelle Gildernew is rolling out the Farm Modernisation Scheme, with almost 1,300 farmers receiving offers of support.
And I would commend one particular initiative taken by DRD Minister Conor Murphy. He has insisted that social clauses are now written into major road building contracts – in practice this means that a certain number of long term unemployed must be recruited and a certain number of apprentices taken on in order for the company to win the contract. These sorts of social clauses could easily be rolled out across the island as a way of dealing with the tens of thousands of people unemployed in the construction sector at this time.
In addition to this we have seen significant capital investment projects like the new hospital in Enniskillen, and the recently opened one in Downpatrick. The construction of over 2000 social and affordable homes with a target of 10,000 new builds in this area by 2013.
Capital projects provide much needed employment in construction and much needed revenue for the local economy.
This is what Reg Empey now seems to want to squander for reasons best known to himself. The UUP have three days to sort themselves out. They can do the right thing and join with the rest of us in building a new and better future or they can continue to pursue a negative, rejectionist agenda which is out of step with the majority of unionist opinion and the vast vast majority of citizens on the island.
Is Reg Empey really saying that he is threatening the political institutions because Caitríona Ruane won't reintroduce the 11 plus. What is more dysfunctional than that?
I have to say my experience of government in the past number of years tells me that although it can be cumbersome and even unwieldy at times – local politicians can deliver for local people if the political will is there. If government is to mean anything it must be responsive.
Caitríona Ruane has introduced classroom assistants in every P1 and P2 class, brought in grants for primary school uniforms and funded GAA coaches in schools for the first time. Conor Murphy has moved to ensure increased investment in public transport and has continued to ensure no double charging for water. Michelle Gildernew has brought in £7m investment for small family farms, funded 20 new rural childcare facilities and has introduced a £10m scheme to tackle rural poverty and social exclusion.
And other Ministerial colleagues have brought forward initiatives which have made life better even in these difficult economic times. We have managed to put a package in place to settle low pay claims from 13,000 public sector workers, mainly women, who have been under paid for decades.
We granted £150 payments to the most needy to deal with fuel poverty, we are ending prescription charges, we have granted free travel to all over 60s and we have frozen the regional rate saving ordinary families hundreds of pounds each year. We have also ensured an addition 20% discount in rates for the over 70s and are introducing a small business rate relief scheme.
Along with Peter Robinson we have recently agreed a significant strategy to tackle sectarianism and racism.
I have to say I enjoy the challenge of government. I enjoy trying to help people with problems. I enjoy trying to make a difference. I am proud of the contribution we have made so far.
That's why it is laughable when I hear commentators or political rivals in this state say that Sinn Féin cannot be trusted in government, or we do not have experience in government. Wake up and look north. We are in government, we are taking the hard decisions and we are doing a good job to boot. Their attitude is arrogant, it partitionist and it is unacceptable.
The Irish people will choose their government. Irish citizens in the North have entrusted us with that task. We must ensure that Irish citizens in this state are provided with the same choice, the same opportunity. That means building Sinn Féin in every county in Ireland, it means challenging the failed policies which have created an economic mess and it means bringing forward serious proposals for dealing with the recovery.
We can provide the voice for families crippled with massive mortgages, for people living in half finished developments, for people with no job and no prospect of getting one, for young people being forced to make the choice to leave Ireland.
We need to set out our vision of the Ireland we want to build. We have to deliver on that vision in the Executive and the all-Ireland political institutions. Sinn Féin is the alternative to the failures of the past – we are not sloganising, or standing outside the room. We can make a real difference to peoples lives. We have a contribution to make to getting Ireland back to work, back on its feet.
I would appeal to people in this state in particular to look beyond the rhetoric from the usual suspects. Examine what we have done in government to date. Look at the leadership we have shown in building the peace process. That is the sort of leadership that Ireland needs now."