11 March 2010 Edition
Sinn Féin offers leadership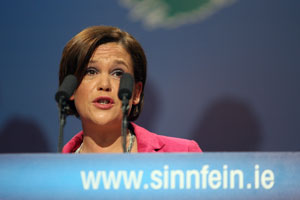 Opening Address to 2010 Sinn Féin Ard Fheis
Opening the 2010 Ard Fheis, Sinn Féin vice president Mary Lou McDonald extended support and solidarity to the family of Sinn Féin member Sam Marshall "who was murdered 20 years ago this weekend by unionist paramilitaries acting in collusion with the RUC and to all of those other families who have fought for the truth about Britain's involvement in the murder of their loved ones through the policy of collusion".
The themes for the weekend, she said – jobs, fairness, equality and unity – sum up the objectives of Sinn Féin. "Never have these objectives been more relevant or urgent as now."
At a difficult time for the country, she said, "Ireland needs leadership, imaginative leadership, determined leadership, and Sinn Féin offers just that".

"Sinn Féin is the only party that is serious about Irish unity, about delivering the Republic.
"Sinn Féin is the only party that is serious about changing Ireland  – consigning political cronyism, corruption and second-class citizenship to the dustbin of history.
"In the past, recessions have seen our best and brightest exported to build other nations. We cannot return to the failed policies of emigration and impoverishment.
"This is not a time to lose confidence and hope.
"It is a time for leaders to step forward, to seek out the possible. It is the time when the demand for a decent, fair society and for decent government must prevail. That is our message this weekend."
Also see Other News for More Ard Fheis coverage