4 March 2010 Edition
Sinn Féin objects to NIE planning application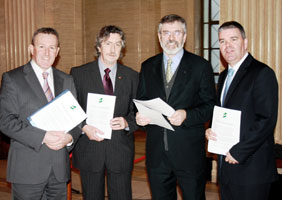 Sinn Féin recently submitted its concerns to the Planning Service on the application by NIE for a 400kv North South Electricity Interconnector.
The party has consistently recognised the need for an all-island electricity network, but it opposes the proposed Interconnector being placed overground, with pylons stretching from Meath through Cavan, Monaghan, Armagh and finishing in Tyrone.
Commenting, Newry and Armagh MLA, Cathal Boylan said;
"In our detailed objection to the NIE application in the North submitted to the Planning Service we have highlighted the concerns of residents, farmers, landowners and schools to the proposal.
"This includes issues around cost alternatives and analysis; environmental impacts; land and property devaluation; farming and agriculture and the serious public concern on the effects these pylons may have on health."
The Assembly member, along with colleagues Councillors Mary Doyle and Paul Corrigan, have been to the forefront in supporting the public objections to this proposal, voiced through action groups SEAT and NEPP.
"The proposal to erect a 400kv overhead power line consisting of 102 pylons, and stretching some 33.9 kilomeres across the Drumlins of Tyrone and Armagh as well as additional connections through Monaghan, Cavan and eventually ending in Meath, cannot be supported by Sinn Féin," said Boylan. "We suggest that a precautionary principle should be adopted in respect of this application.
"Sinn Féin believes there are significant public concerns about this proposal that warrant a public consultation into the planning application recently submitted by NIE. We believe these concerns of the public and residents and also the need for an all-island interconnector can be met by placing this proposed power line underground."