4 March 2010 Edition
THE JULIA CARNEY COLUMN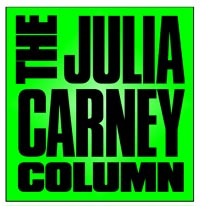 A Dummy's Guide to the Ard Fheis
If you've not been to the Sinn Féin Ard Fheis before, or if you have but can only recall it through a drink-fuelled haze at Le Chéile, some tips for the weekend.

The food. Start writing your complaint letter now, my friend, for it never changes. The food will be hugely overpriced. Northern comrades in particular will be seen to sway slightly at the register when they hear how much they have to pay for an extra sausage. It won't be of great quality. The queues will be extremely long. You'll have trouble finding somewhere to sit and there's a possibility the coffee stall will run out again. But Ma Carney reared me well. Since '93 I've brought my own ham sandwiches and a flask of tea to Ard Fheiseanna. Do the same.

The big debate. Every year, no matter what crisis is taking place in the Peace Process, no matter how battered the Irish economy is, regardless of the concerns of the Irish people, delegates to a Sinn Féin Ard Fheis will have a row about something no one really cares about.
For a number of years it was about how to elect more women to the Ard Chomhairle and before that it was the nightmare of water fluoridation (still don't know where we came down on that one actually). This year, it's coursing. On the one side the muesli eating, sandal wearing, dreadlocked hippies trying to ban it. On the other the naked, woad painted, illiterate, hairy savages trying to keep it. We're calling this one for the Ferris family.

The Ard Chomhairle elections. While Shinners often rightly moan about how national elections are fought on geography, clientelism, who your father knew and so on, we apply the exact same criteria to our Ard Chomhairle elections. To a man and woman we will vote for people from our county first, then our cúige and then from either the South or the North depending on what side of the alleged border you're on. Politics, ideology, commitment to the struggle, none of these matter a bit. Every delegate is thinking, "We need one of our own to keep an eye on them 'uns in 44". And they're right. Oh, and contrary to popular belief the election isn't actually rigged, making it arguably unique in Sinn Féin.

The media. If you stand on the stage and look out over the hall, on the right hand side you will see a group of people checking their Facebook accounts during the Ard Fheis. These are journalists. Don't be frightened. This weekend is unique in bringing together in such numbers two groups of people who are deeply suspicious of each other, republicans and reporters. Play nice with them. Let's have no repeat of the time security wouldn't let David Davin-Power into the Ard Fheis because he'd lost his pass and they 'couldn't recognise him'. "The telly is it, are you on one of them reality TV shows?" one was heard to ask. Remember, most journalists are committed Sinn Féin supporters and voters. The only reason it doesn't come across in their copy is because of their editors.

Guests. Make sure to be there for the international speakers from the Basque Country and Palestine around 3pm. They're not getting an easy time of it these days and they could do with the support. They also tend to be a bit of craic. Jack O'Connor is getting angrier day by day so by Saturday he might be willing to call for a coup and the setting up of workers' soviets. Bring your red flag and some rope for some banker-hanging good times. 

The big speech. This year Gerry's oration to muintir na hÉireann is going out at the slightly later time of half eight. On the upside, it means more people can see it and he can only talk for 30 minutes. On the downside, it means we're stuck in the RDS until nine at night.
By the way, the rumour that West Belfast Comhairle Ceantar monitors the crowd to identify who sits down first after the standing ovation at the end of Gerry's speech is not true. It's the General Secretary's responsibility. Don't say you haven't been warned. Have you ever heard of Tony James McGillicuddy? No? That's why.
Anyway, my advice is to watch it in the pub across the way. It'll be more comfortable; on the TV there you can see what camera angles RTÉ are using to show it ("quick, another standing ovation, zoom in pointlessly on his microphone") and you're in a pub. Fun drinking games including knocking back a shot every time Gerry says 'in reality' or uses a four-word sentence. Don't try the latter unless you've the constitution of a bullock.

Irish language. For those of you who do not speak our national teanga, sets of earphones for simultaneous translation are available free of charge and I highly recommend them. Firstly, it makes you look like you're concentrating on the debate, even if you're only doing the crossword or have actually fallen asleep. It demonstrates support for the Irish language. It allows you to imply you actually wear it so you can hear the Irish translations of those west Brits speaking English. And if you ask Jim Monaghan nicely, he can tune it in to RTÉ or the BBC.
But remember the real reason for the Ard Fheis, because it's got nothing to do with politics. It's a chance to see comrades you haven't seen for a year or more, compare war stories (electoral or old school) and plot our way to power.
An Phoblacht Magazine
AN PHOBLACHT MAGAZINE:
Don't miss your chance to get the second edition of the 2019 magazine, published to coincide with Easter Week
This special edition which focuses on Irish Unity, features articles by Pearse Doherty, Dr Thomas Paul and Martina Anderson.
Pearse sets out the argument for an United Ireland Economy whilst Pat Sheehan makes the case for a universally free all-island health service.
Other articles include, 'Ceist teanga in Éirinn Aontaithe', 'Getting to a new Ireland' and 'Ireland 1918-22: The people's revolution'.