18 February 2010 Edition
Shell to Sea protestors jailed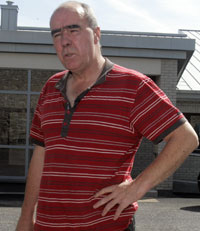 Sinn Féin councillor criticises imprisonment

BY ROBBIE SMYTH

As two Shell to Sea activists were sentenced last week in Castlebar Circuit Court, Sinn Féin's Mayo county councillor Rose Conway-Walsh attacked the sentences, saying that "putting protesters in jail will not bring a solution to these problems".
Last week Judge Raymond Groarke sentenced three protestors, jailing one, Pat O'Donnell, for seven months, while imposing a suspended sentence pending 240 hours community service on Niall Hartnett. Groarke also banned a third protestor, Maura Harrington, from driving for two years and her sentencing for public order breaches will be held over for a year.
Judge Groarke, while handing down the sentences, launched a personal attack on the protestors, accusing them of being bullies, thugs and vigilantes and of "acting like a secret police".
The judge's claims were met with incredulity by the Shell to Sea and other local community campaigners in Erris and Kilcommon, as for nearly five years they have been subjected to ongoing systematic intimidation.
An Phoblacht spoke to Vincent McGrath who was imprisoned with four other local men five years ago for 94 days for opposing the Shell pipeline.
McGrath had been speaking at a human rights forum last Friday, 12 February, the same day O'Donnell was sent to Castlerea Prison. The forum was organised by Front Line, the International Foundation for the Protection of Human Rights Defenders.
McGrath told the conference that, "We have been under surveillance by the police while in our homes and even far away from the scene of any protests. Our car registration numbers have been recorded by the police while we attended public meetings".
He also said that, "Police riot vans have patrolled our area in an effort to intimidate us and at the same time convey the impression to the outside world that we are dangerous people who pose a threat to the State. Our people have been beaten with batons, kicked, hospitalised, assaulted and arrested, even though we have been engaged in peaceful protests."
Last week's sentences and jailing are just the latest part of a saga where the profits of Shell and Statoil have been put ahead of the safety and health of a western rural community.
Now matters have been exacerbated by not just the circuit court sentences and the comments of Judge Groarke, but also by allegations that the Green Party energy minister Eamon Ryan is interfering in the planning appeal process that has stalled the pipeline because of health and safety concerns.
Ryan and his officials wrote to An Bord Pleanála in January following a decision in November 2009 that there were legitimate health and safety concerns about the proposed Shell pipeline route.
The Green Party minister's argument is that he wants An Bord Pleanála to base their deliberations on the likelihood of an accident rather than what would happen if an accident occurred.
Vincent McGrath framed the context of such an accident for the local residents. He said that "in the event of a gas leak we would not be able to smell the gas because it would be not be odorised; that in the event of a full-blown rupture/fire/explosion anybody within 400 metres would very likely be killed; that we would have only 30 seconds to get to safety". Yet Shell were "prepared to put such a pipeline as close as 70 metres to our homes through unstable ground".
Rose Conway-Walsh told An Phoblacht that, "there is an urgent need to deal with the real issues behind this pipeline, from the environmental impact, the health and safety concerns and the sell off of our natural resources".
Walsh said that the,"government tactics of only dealing with peripheral issues and criminalising the protestors is not a solution. The health, safety and human rights of the people of Erris and Kilcommon must be key".
Shell to Sea has organised a serious of protests against the imprisonment of Pat O'Donnell including a demonstration outside Shell's Dublin headquarters on Tuesday 16 February.
Shell to Sea protesters had been targeted by the Garda