18 February 2010 Edition
THE JULIA CARNEY COLUMN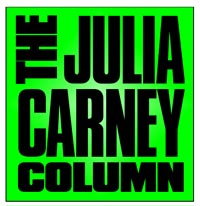 Sick of these insider outsiders
I don't care about George Lee. I really, really don't. Like most of us when I got the text messages last Monday week to let me know he'd resigned I laughed like anyone else. I thought he was a bit of an eejit, which I upgraded to complete eejit by Tuesday and to gibbering egomaniacal self-centred arrogant sod by Friday. I never thought it would be possible to feel sorry for Fine Gael, and it's not, but I was very close at one point. 
But one of the more interesting columns, and interesting more for what it tells about how some of Ireland's commentators view themselves, was a piece by David McWilliams in the Independent. He argues that "the George Lee saga could well be the first skirmish in a long war between those who believe the system should be defended – the insiders – and the outsiders who believe the status quo is part of the problem".
Outsider? Opponent of the status quo? George Lee? "Whatchoo talkin' about Willis?"
This is a guy who was paid a six-figure salary to be the economics editor for the country's state broadcaster. They don't let 'outsiders' do that job. Then he was selected as a candidate for the most conservative political party in the country, one wedded to free market economics and whose only problem with the government's plan to cut public services is that the cuts aren't deep enough. And on the back of media coverage for his election campaign so abjectly fawning Stalin would have tut tutted had he seen it in a 1930s edition of Pravda, he was swept into a Dáil seat.
And then, once elected, such was his sense of arrogant entitlement that he sat and waited to be recognised as an economic genius. Though, as Vincent Browne pointed out in his column in the Times, easily the best analysis of the whole thing: "George Lee's problem was not the lack of a platform or a role – it was the absence of a political philosophy."

In short, he had nothing to say. And why should it surprise us? George Lee was no outsider. He was as much a part of the political and media establishment in Ireland as the most drooling inbred on the Fianna Fáil backbenches. Oh sure, he and his mate McWilliams ("we worked together in the Central Bank" – no surer sign of outsider status) ask the occasional question, issue the odd warning, but they believe the economic system governing Ireland should work in a different way. They don't reject the system and the economic ideology that sustains it.
They're the loyal opposition and thus, insiders. David McWilliams might like to think otherwise but the Minister for Finance does not turn up on your doorstep if you're some kind of freethinking economic dissident.
This is so obvious that even Eoghan Harris gets it, writing in the Sunday Independent after Olivia O'Leary on RTÉ swallowed the same kool-aid as McWilliams. "How can a person as well got as Lee, a person who is part of O'Leary's peer group, a person who is paid to pontificate on public affairs — how the hell can that person be classed as an outsider?"
Sadly Harris then goes and spoils it by wandering off into another analysis of Irish society based on Aristotle versus Plato and of course he believes himself to be an outsider too. To refresh our memories on this one, Eoghan was appointed to the Seanad on the whim of the Taoiseach after going on the Late Late to call on people to re-elect Fianna Fáil. He writes a weekly column in what is the country's most widely read newspaper and is no stranger to the airwaves.
What is it with people locked into our political establishment that they need to recast themselves as rebels, as courageous people taking on the powers that be? Real outsiders are protesting in Corrib and getting locked up for it while Eoghan lodges Seanad expenses claims.
But in fairness to him we have Eoghan to thank for one of the gems of last week when he was on Newstalk blaming women for the George Lee debacle. As Eithne Tynan recounted in her always excellent radio review column in the Tribune, "While women 'are wonderful in many things', they are suckered by George Lee's 'touchy-feely revelation of feelings', according to Harris.
"Men are not so easily fooled, though. Not only that, but 'so-called sensitive men, in touch with their feelings, the kind of guys who never fart, are usually seriously neurotic controller types'. Harris has had enough of them. 'Give me your natural farter any day than that kind of neurotic Dublin South type,' he said."
To sum up, women shouldn't vote and we should only elect farters. Maybe I'm wrong,  but that is kind of outside the box alright.

An Phoblacht Magazine
AN PHOBLACHT MAGAZINE:
Don't miss your chance to get the second edition of the 2019 magazine, published to coincide with Easter Week
This special edition which focuses on Irish Unity, features articles by Pearse Doherty, Dr Thomas Paul and Martina Anderson.
Pearse sets out the argument for an United Ireland Economy whilst Pat Sheehan makes the case for a universally free all-island health service.
Other articles include, 'Ceist teanga in Éirinn Aontaithe', 'Getting to a new Ireland' and 'Ireland 1918-22: The people's revolution'.