18 February 2010 Edition
Adams welcomes political developments in Basque Country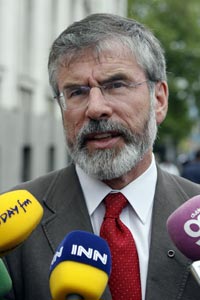 Sinn Féin President Gerry Adams has welcomed the outcome of the weekend conference of the Abertzale Left Regional Assemblies (including Batasuna) which agreed a new political strategy for progress.
The Resolution, 'Standing up for Euskal Herria' commits Abertzale Left to using 'exclusively political and democratic means' to advance its political objectives.
It seeks to advance political change "in a complete absence of violence and without interference' and 'conducted in accordance with the Mitchell Principles', and its political goal is to achieve a "stable and lasting peace in the Basque country."
"This is an important development which creates an opportunity for an end to conflict in the Basque country and for real political progress," said Adams.
"I understand that the internal debate among Basque militants that has taken place over recent months has involved up to 7,000 activists. This is a remarkable achievement.
"Other recent developments have indicated a determination on the part of Abertzale Left to resolve the conflict and to pursue national and democratic rights through peaceful and democratic methods.
"The political conclusions to emerge out of the weekend conference are an even more important and significant development.
"I congratulate all involved.
"The next steps are crucially important in terms of the strategies Abertzale Left develop and the response of the Spanish State.
"I would urge everyone, but particularly the Spanish government, to examine closely the language, strategy and direction now being taken by Abertzale Left.
"There is a real opportunity for peace emerging and for a fundamental change in the relationship between the Basque country and the Spanish state. There is an onus on everyone to grasp this in good faith and to make every effort to bring an end to conflict in that region."