18 February 2010 Edition
Another View by Eoin Ó Broin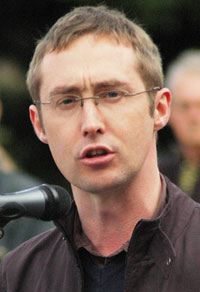 Against Ambition
Ambition is defined in most dictionaries as a desire for personal advancement or achievement. It comes from the Latin word 'ambitio' which means 'going around'.
In ancient Rome the word was used to describe candidates who literally went round the city soliciting votes at election time.
Of course 'going around' has two meanings. The first is the simple and legitimate act of asking people for their votes.  In this sense 'ambitio' means to canvass.
But 'going around' can also have a less savoury meaning. It conjures up images of conspiratorial individuals plotting dishonest routes to power.  You can almost see the would-be senators lying and bribing their way into office.
As one dictionary describes it, ambition in this sense is marked by an 'inordinate desire of honor or preferment' in which the candidate will stop at nothing in search of electoral success.
Political ambition in this second sense is bad for any political system. It turns decent and hardworking politicians into sycophants and liars, who will say and do anything in order to win office.
It puts the individual candidate before the values that initially motivated them into public life. The result is that personal advancement takes precedence over the political programme upon which the candidate sought office.
The real substance of politics, namely a contest of ideas over how best to organise human life, is replaced by a vacuous popularity contest of personalities jostling for the superficial spoils of office.
There have been plenty of ambitious people in the news recently. Killian Forde, George Lee and Deirdre de Búrca in their different ways and for different reasons all succumbed to its seductive charms.
Ambition, arrogance and ego collided to convince all three elected representatives that their own personal future and fortune was more important than the ideas of the parties in whose name they stood.
In the most immediate sense the losers in each case were the party activists who secured the election of these three politicians and, more importantly, the voters who put their trust in these party candidates.
Killian, George and Deirdre were each given a mandate. They were tasked to represent the interests and aspirations of those who selected and elected them.
And in each case they broke that mandate and turned their backs on those who put them in such a privileged position in our political system.
But the biggest loser was politics itself. In the heated exchanges between party and candidate that followed each resignation, public confidence in politics, political parties and politicians was undermined. Politics presented itself as a display of ambition; the desire by individuals to advance and prosper.
People are tired of this kind of politics, driven by the ambition of individual politicians. It is time for a new politics that is about the common good and the advancement of society as a whole.
It is time to stand against ambition and for a politics in which policies, not personalities, are what matter.

An Phoblacht Magazine
AN PHOBLACHT MAGAZINE:
Don't miss your chance to get the second edition of the 2019 magazine, published to coincide with Easter Week
This special edition which focuses on Irish Unity, features articles by Pearse Doherty, Dr Thomas Paul and Martina Anderson.
Pearse sets out the argument for an United Ireland Economy whilst Pat Sheehan makes the case for a universally free all-island health service.
Other articles include, 'Ceist teanga in Éirinn Aontaithe', 'Getting to a new Ireland' and 'Ireland 1918-22: The people's revolution'.