18 February 2010 Edition
Challenges and opportunities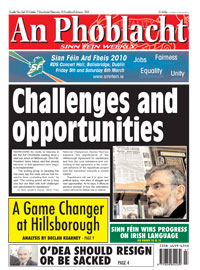 Addressing the media on Saturday at the first Ard Chomhairle meeting since a deal was struck at Hillsborough, Sinn Féin President Gerry Adams said that already elements of that agreement have begun to be implemented.
"The working group on parading has met every day this week and we look forward to them concluding their work," he said. "The coming period will be a busy one, but one filled with both challenges and opportunities for republicans."
In this week's issue, Sinn Féin National Chairperson Declan Kearney explains the significance of the Hillsborough Agreement for republicans and how the core substance and outworking of that agreement is the continued advance of the republican project and the transition towards a united Ireland.
Republicans will use it to open new political space, new sites of struggle and new opportunities. As he says, it offers an advance preview of how the redundancy notice will look for British rule in Ireland.
Also see A game changer at Hillsborough