18 February 2010 Edition
Taxi driver's miraculous escape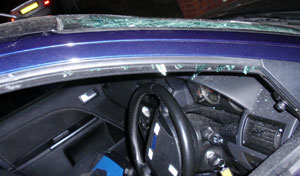 Sinn Féin Councillor Patricia Logue has said it's only a matter of time before there is a fatality or a serious injury due to continued sectarian attacks in and around the Bishop Gate area of Derry's city centre.
Her comments follow an attack on Saturday night around 8.45pm when a large rock was dropped from Bishop's Gate onto a taxi as it travelled into the city centre and follows a number of similar incidents there in recent months
"The taxi driver was badly shaken by this sectarian attack and was fortunate not to have been seriously injured," she said. "The rock smashed the windscreen and caused other damage, and when he stopped his car he was targeted for a second time before his attackers made their escape through a pedestrian gate into the Fountain Estate.
"This is not the first type of these attacks to have taken place at Bishop's Gate and it's a miracle there hasn't been a fatality or a serious injury to either a driver or one of their passengers.
"The taxi industry in Derry has endured enough hardships in attempting to make a living without having to put up with the constant threat of these sectarian attacks every time they travel along one of the main arterial routes in our city centre at night time.
"The PSNI need to put in place resources to catch those responsible for these ongoing attacks and review the security of a number of gates in the area that are being used as escape routes."
Councillor Logue has called on community leaders "to help stop these attacks and allow taxi drivers to make an honest living without fear of injury or death".