11 February 2010 Edition
The SDLP - Searching for a role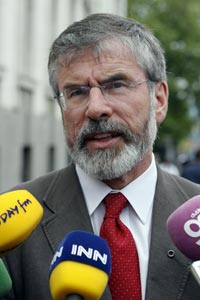 Following the SDLP's 40th national conference at the weekend, which saw Margaret Ritchie elected over Alasdair McDonnell to replace Mark Durkan as party leader, Sinn Féin president Gerry Adams, writing in his online blog leargas.blogspot.com, addressed the SDLP's negative stance following the Hillsborough Agreement.
Sometime when I get a chance this Blog intends to have a look at the SDLP and its role in politics on this island. For now on a sunny Tuesday afternoon such an enterprise is beyond me. It is suffice to say that the SDLP is a party in search of a role.
The weekend saw Mark Durkan retiring as party leader. I wish him and his family well. If he gets elected at the next Westminster election he has signaled his intention to retire from Irish politics. There is no other explanation for his announcement that he intends to work only as an MP. In other words, Mark has made a career choice.
The political trajectory here is increasingly about moving all decisions and decision making process effecting this island, onto the island – and away from politicians in Britain. Mark is opting out of this. Unless, of course, he fails to retain the Foyle Westminster seat, whereupon it is clearly his intention to retain his Assembly seat.
Such inconsistencies are nothing new. Some time ago the SDLP signaled its intention to join Fianna Fáil. In effect, that means winding up and disbanding the SDLP. Not everybody in the party appears to have been consulted. Some stated as their preference a merger with the Irish Labour Party. And so it went. To and fro.
Now the SDLP has a new leader. In a narrow contest in which the party divided almost even-stevens Margaret Ritchie was elected to lead. I wish her well. The Captain of the Titanic had an easier job.
In her first public remarks after her election as party leader Margaret made it clear that the SDLP's main opponents, as opposed to electoral rivals, are Sinn Féin. Many people will be disappointed that she didn't see the British government or indeed the unionist parties in this light.
So, this is the context post the agreement at Hillsborough in which the SDLP's attacks on Sinn Féin's efforts to advance the rights of citizens should be seen. It is entirely self-centred, party political and opportunistic.
The fact is that Sinn Féin has made a temporary arrangement with the DUP until 2012 to ensure that the legislative Assembly can legislate on policing and justice issues. As part of this we have set aside Sinn Féin's rightful claim to the Justice Ministry in return for the DUP doing the same.
The SDLP are now saying that they want d'Hondt to be run. The fact is that if this were done the SDLP would hand the Justice Ministry to the DUP.
When Mark Durkan was SDLP leader he said that he wanted d'Hondt run across all parties. Margaret Ritchie appears to have a different position.
If Sinn Féin had listened to the SDLP there would be no agreement on the transfer of powers on policing and justice and these powers would have remained under the control of an unaccountable British Minister.
Sinn Féin's focus has been on ensuring that the transfer of powers takes place as early as possible and on terms acceptable to the broad community.
Our goal was to get justice and policing powers shifted out of London and into the hands of locally elected politicians accountable to citizens here.
The SDLP voted in the Assembly for interim arrangements. Having voted for these what are they complaining about?
The interim arrangements have been agreed until 2012.
They require cross community support.
This is the best means by which we can ensure the widest possible community support. Sinn Féin is prepared to vote for an SDLP nominee.
The agreement at Hillsborough has set 12 April as the date for the transfer of powers. This is a considerable achievement.
If it had been left to the SDLP it would never have happened.
The SDLP's Conall McDevitt, Alasdair McDonnell, Mark Durkan, Margaret Ritchie and Alex Attwood at Hillsborough 
Negative agenda criticised
Commenting on attacks over the weekend at the SDLP conference on the recent Agreement, Sinn Féin Assembly group leader John O'Dowd said: "Friday was a good day for politics. The agreement reached at Hillsborough between Sinn Féin and the DUP ensures an early transfer of policing and justice powers and provides a solid basis for the political institutions to move forward on.   
"It is disappointing that the SDLP should use their annual conference as a platform to share the ground held by rejectionist unionists like Jim Allister in criticising an agreement which has been welcomed widely by ordinary citizens.   
"Sinn Féin want to work with the SDLP and the other parties in the Executive in delivering for communities. Unfortunately in recent years the SDLP have instead been more interested in standing on the sidelines and sniping as Martin McGuinness and others did the heavy lifting.   
"Judging by the tone of the SDLP conference this weekend it seems that the policy of negative politics, self exclusion and a semi-detached involvement in the Good Friday Agreement political institutions is set to continue."