11 February 2010 Edition
Ferris questions Fahey role in fishing scheme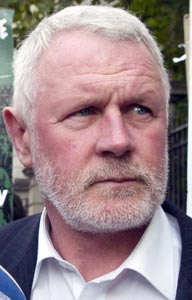 The Sinn Féin Dáil spokesperson on Fisheries, Martin Ferris TD, last Thursday questioned the role played by former Minister for the Marine Frank Fahey in the creation and operation of the Lost at Sea Scheme. The scheme, established to compensate fishermen whose boats had been lost, was the subject of a critical report by the Ombudsman Emily O'Reilly, which was debated in the Dáil that afternoon.  
"When the Scheme was proposed there was a view within the Department that it might actually facilitate certain people accessing quota while others were forced to pay for it or were unable to get any. Minister Fahey overruled those objections. The manner in which the scheme operated only heightened that concern.  
"Apart from the failure to advertise more widely the Ombudsman found that some of those who applied were in fact written to in order to inform them of its existence. On what basis was it decided to contact those individuals and not others?  
"Of the 67 applicants between June 2001 and the closing of the scheme on December 31, only six were accepted. €2.8 million was paid out to those six successful applicants to buy replacement tonnage. Two of the then Minister's constituents got 75 per cent or €2.1 million of the total funds. It was later discovered that although the scheme did not close until 31 December 2001, that Minister Fahey had written to his two constituents in October congratulating them on being successful. Apparently Minister Fahey's two constituents were the people who originally suggested establishing the scheme.  
"It was also found that one of those persons did not actually qualify but he appealed and was accepted in 2003 with one of the reasons cited for the award being the fact that Minister Fahey's letter of congratulations had created the reasonable expectation that he would in fact receive compensation.  
"There is clearly a need to not only act upon the Ombudsman's report but also to establish an enquiry into the overall manner in which the scheme was set up and operated, and the former minister's own role in all of that."