11 February 2010 Edition
British Government still ignores acknowledgement of all victims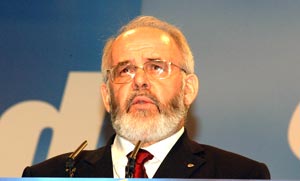 Sinn Féin victims spokesperson Francie Molloy says the announcement by British junior minister Paul Goggins of the extension of the British Police Survivor Support Scheme from Britain to the North of Ireland is no surprise.
"Over the past number of years they have put inordinate resources into the widows, dependants and injured members of the British Army and RUC and ignored all other victims," said Molloy.
"I understand that at least one campaigning victims organisation has been contacted by many angry victims today on this issue. This included, I am told, several unionists whose loved ones were not part of the British forces.
"Republicans acknowledge the suffering of those injured and bereaved through the conflict. However there can be no hierarchy of victims and all victims and survivors must be treated equally. This approach has directed all our dealings with the issue.
"It is time for the British Government to acknowledge all victims, including the victims of state violence. The suffering faced by the widow of an RUC member is no different from the widow of victim of collusion. There is a responsibility on the British Government to address the needs of all victims and survivors.
"This payment was not a part of the consideration at Hillsborough. The discussions at Hillsborough were predicated on the principles of equality and partnership. The action of the British Government is a direct contravention of these principles."