11 February 2010 Edition
925 jobs go in 24 hours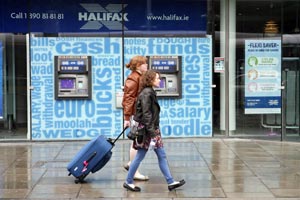 BY BRENDAN KERR
THE 26 Counties haemorrhaged almost a thousand jobs in the space of 24 hours on Tuesday. Bank of Scotland Ireland announced it is to close its Halifax retail banking business, with the loss of 750 jobs, by July. Earlier, US healthcare giant Boston Scientific said it is to cut 175 workers from its Galway workforce.
Last Friday, Glen Dimplex announced the closure of the Bitech Engineering plant in Dunleer, County Louth, with the loss of 200 jobs, bringing the total jobs casualties to over eleven hundred in a few days.
Galway became Boston Scientific's main centre of operations with 3,000 staff after shutting down plants in Tullamore, County Offaly, and Letterkenny, County Donegal, and moving the jobs to Galway. Another 2,000 are employed in Cork and Clonmel, County Tipperary. The company makes medical devices for cardiac and vascular treatment.
The Halifax shutdown, Sinn Féin Employment spokesperson Arthur Morgan said, shows that the Government's priorities are distorted in favour of bailing out banks, putting the state in a vulnerable position.
"The Government is making huge efforts to resuscitate an ailing banking sector but 750 jobs are being lost because of the closure of the Halifax retail banking business. More than ever we are seeing how distorted Government priorities, in favour of bailing out the banks, have put the people of this state in a vulnerable position."
Arthur Morgan pointed out that it was announced in July last year that Halifax would be closing down its operations in Ireland following direct orders from the British Treasury in Whitehall.
"What I would like to know is what the Government were doing over the past few months to negotiate with both their counterparts in Britain and in Halifax to prevent this from happening."
The Sinn Féin TD also pressed the Tánaiste and Employment Minister Mary Coughlan about what she and her Cabinet colleagues have been doing to ensure there are retraining and education opportunities for the 750 Halifax workers, given that the jobs losses had been predicted.
LOUTH DOUBLE BLOW
The Bitech closure came after parent company Glen Dimplex tried to impose a stringent cost-cutting regime on its workforce.
SIPTU representative John King said:
"The package is totality was unacceptable to the workers, who are already low-paid, earning less than the average industrial wage, while the Glen Dimplex group is very profitable. This is a devastating blow to the workers and to the Louth area."
The economic losses will be felt not just by the employees and their immediate families, he said, but across the wider community in Louth.
As a TD for Louth, Arthur Morgan highlighted the damage that would be done by the double jobs blow to the county.
"The imminent loss of 130 jobs in Dundalk is particularly severe following the announcement last week of 200 jobs likely to be lost at Bitech engineering in Dunleer.
"The people of this state need a government that is proactive not passive; one that will take initiative and show leadership, rather than show indifference to the great unemployment crisis facing the country."