4 February 2010 Edition
2010 SINN FÉIN ARD FHEIS: Connacht Le Chéile Honouree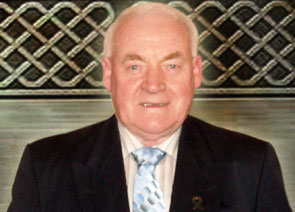 JACK BROGAN – A republican stalwart down the decades
JACK BROGAN, the Connacht honouree for this year's Le Chéile event, is originally from Castlederg in west Tyrone. Born in 1941, Jack has led a busy and active life having been shot, 'on the run' and arrested for his republican involvement. On top of all that, he and his wife, Rose, raised 15 children. He tells ELLA O'DWYER a story that has the makings of a thriller.

"OURS WAS a working-class family," Jack tells me. "I had four brothers and three sisters. My mother was a big inspiration to me in terms of my republicanism – she had strong views on a united Ireland. I went to school in Castlederg but left to start working on a farm when I was 14."
Jack Brogan had a lot of back-up throughout his adult life.
"I married Rose in 1961. She always supported me in my republican activities and we had 15 children, ten boys and five girls. We had an army of our own!"
Jack got involved with the Civil Rights Movement in 1968.
"I saw what nationalists in the North were going through and there were calls for help so I joined the Civil Rights Movement to help the people of Derry.  The following year, I joined the Republican Movement in Tyrone. I was very active in west Tyrone, along the Donegal border. Our house would be raided nearly every month. If anything happened in the area our house would be the first to be hit.
"There was an early-morning raid on our home one day from the British Army and they found nothing so I went off to work as usual. Later that morning, my wife rang me to say she'd seen the Brits plant something outside of the house and she told me not to come back into the house. So in 1971 I went on the run and lived across the border in Ballybofey, County Donegal, where I ran a garage."
Things didn't slow down any in Jack's life after that and a couple of years later there was more bother when he faced a serious charge.
"In 1973 I was charged with the murder of an RUC man – but I wasn't convicted."  A year later, in 1974, trouble really visited him – and at his very door. Jack himself was shot.
"I was ambushed and shot in 1974 by the UVF. I walked out of our house in Ballybofey one night at half-ten and they riddled me. There were four of them with four different types of weapons; 17 rounds were pumped into me. The UVF rang back to the house just after the shooting, asking if I was dead and if we needed an undertaker. A doctor and a priest had arrived at the house by that time and the priest answered the call and said  my attackers would need an undertaker before me."
Jack was severely wounded in the shooting, resulting in the loss of a limb. "I've a full-length artificial leg," Jack says. "I was taken to hospital in Letterkenny for blood transfusions and then to hospital in Galway, where they amputated my leg, which was very badly injured. I only discovered about the amputation when I woke up. It was a priest who told me my leg was gone. I was nine months in hospital.
"I remember my solicitor applying for compensation on my behalf, which was refused. They said they were refusing compensation because I'd brought the violence on myself. I had eight children by then so it was difficult but my wife Rose was a great support to me."
Jack admits that he was angry about the loss of his leg but he didn't let the whole experience deflect him from his republican activity.
"I shook the bitterness off and got straight back into things and later that same year I was arrested and charged with possession of explosive substances and spent four months on remand in Mountjoy; I ended up getting a suspended sentence."
In 1976, Jack took his family to live in Roscommon and he got reinvolved with republicanism there.
"Some republicans left at the time of the split in 1986 but I stayed and I've been active ever since. I live in Roscommon but I'm still in an active Sinn Féin cumann in Bundoran, in Donegal. After the split there wasn't much Sinn Féin structure in Roscommon so I tied in with Sinn Féin in Donegal; I'd been affiliated with republicanism in Donegal for a long time."
I remark to Jack that he's been a busy man and asked if he'd ever think of slowing down. "I might have to slow down shortly", he laughs, but evidently not yet.
"When I'm finished talking to you I'll be delivering a tractor. My sons sell tractors; that's what our family did all our lives."
Jack and Rose's 'own army', as he describes his offspring, are aiming to come to the Le Chéile event.
"I'd say most of my family will be coming," he says. "They're all living around different parts of Ireland now  – from Donegal down as far as Kerry."
Jack Brogan was more than pleased to be selected as the Connacht honouree.
"I was delighted to be asked but I thought there were a lot of other people more deserving than me."  Given that he was shot 17 times, had a leg amputated, was arrested and harassed for decades for his republicanism, I think you'd be hard-pressed to find many more worthy.
At this stage I was happy to finish the interview. After all, what else was there to ask him? But Jack had his own ideas.
"Can I make a request?" Jack asks. "Of course," I reply. "No bother at all." I mean, would you argue with a man like this? And, anyway, I'd an inkling that he was about to round things up and make the long story short.
"Will you include in the story that Jack calls on Sinn Féin at the 2010 Ard Fheis to fast-track the removal of any remaining British soldiers out of Ireland and show them the nearest exit."
My pleasure, Jack. My pleasure.

An Phoblacht Magazine
AN PHOBLACHT MAGAZINE:
Don't miss your chance to get the second edition of the 2019 magazine, published to coincide with Easter Week
This special edition which focuses on Irish Unity, features articles by Pearse Doherty, Dr Thomas Paul and Martina Anderson.
Pearse sets out the argument for an United Ireland Economy whilst Pat Sheehan makes the case for a universally free all-island health service.
Other articles include, 'Ceist teanga in Éirinn Aontaithe', 'Getting to a new Ireland' and 'Ireland 1918-22: The people's revolution'.