28 January 2010 Edition
Children hurt by Budget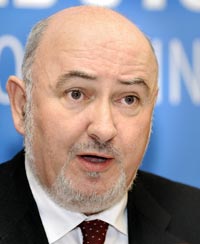 Sinn Féin Dáil spokesperson on Health and Children, Caoimhghín Ó Caoláin, has said that the Children's Rights Alliance 'Report Card 2010' exposes how the recent Budget cuts imposed by the Fianna Fáil/Green Government have targeted children and how government health policy is also failing children.
The Alliance provides a comprehensive overview of how the State performed in its services to children in 2009 and its Report shows an overall disimprovement on 2008, when the government was given a Grade of D; this year's grade is 'D minus'.
"Budget 2009 and 2010 have targeted low income families with children," said Ó Caoláin. "The failure to eliminate child poverty during the 'Celtic Tiger' period is compounded now by measures which are worsening the lives of low income families. The cuts to Child Benefit and to education are especially damaging and will have long-term negative consequences for children. It is little wonder that the Report Card gives the Government an 'E' mark for the 'material wellbeing' of children."
The report's overview of health services for children is especially damning. Across the range of essential health services – primary care, therapeutic services, hospital care, mental health – the story is the same. Children are being let down, early intervention is not happening, services are either not in place or inadequate, waiting times are inordinately long. "As the report states, access to healthcare is a right for every child and cannot be set aside in a recession," said Ó Caoláin, "but this is the danger we face.
"The Report's finding that the government is 'seriously behind target' on the provision of the long promised primary care network is important. As it states 'for children, the kind of community-based, early intervention and preventive healthcare services provided within a primary care structure are critical'. I agree with the Report's call for the ring-fencing of multi-annual funding for the development of primary care. The government must take very seriously and act upon this and all the other recommendations of the report."