28 January 2010 Edition
THE JULIA CARNEY COLUMN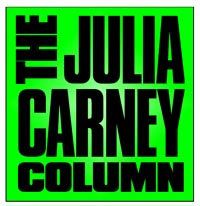 The Ballroom of Unionist Romance
A FEW years ago, against my better judgement it has to be said, I went on an unpromising blind date. Now I've gone on my fair share of them but I hadn't heard good things about this lad.
Rumour had it he was loud, obnoxious and a teeny bit racist. Still, Roisín, my long-suffering flatmate, had long-suffered enough listening to me moaning about being single and so I ended up on one of the most awkward, excruciating and painful dates of my life. Rumour, it turned out, had undersold him.
None of which, you'll be glad to hear, I'm going to bore you with. But memories of the experience were awoken by the news that the UUP and the DUP are contemplating a merger to create, along with the Tories, some sort of über House of Orange that will bestride the Six Counties like a flabby, middle-class and middle-aged colossus. Imagine the sight of a naked 200-foot-tall John Taylor looming over you, the sun glinting on his snow-white skin, and you'll get where I'm going with this.


NOW I've been up North often enough (shoe sales in Newry) to know that the kinds of people who vote and support the UUP and the kinds of people who vote for the DUP are a little different. I can't help but picture the array of meetings of the UDUPUPs (You-Do-Pups?) as a series of awkward first dates where both sides realise fairly early on that they don't like each other and have nothing in common.
They'll slip in the door quietly, trying not to catch each other's eye, each side lining up on one side of the room like the Ballroom of Romance, making sure to leave enough room for the Holy Spirit.
"I know that one," Cliff the UUP election agent will mutter to himself. "That little snotrag keyed my Volvo in '97 when I was picking up a couple of bottles of that cheeky French '84 from The Vineyard on the Ormeau Road."
Eyes will narrow as the followers of the titans of Ulster Unionism – Molyneaux, Trimble and ... umm ... Empey, remember the taunts hurled at them throughout the '90s.
Across the hall, sipping suspiciously at their watery orange juice, will be the ranks of the DUP.
"I remember seeing those two at the end pushing their children on swings on the Sabbath," Nigel the DUP branch treasurer scornfully exhorts, "even though Exodus specifically forbids it, under pain of stoning."


SO IT'S likely to be awkward at first. On the one side, the Ulster Unionist Party, accused by the Democratic Unionist Party of selling out the Union and being Lundies. On the other side of the room, the Democratic Unionist Party, accused by the Traditional Unionist Voice of being Lundies and selling out the Union.
Will they swap tips? Will UUP activists comfort bewildered and confused DUP members about being in government with the Shinners? "Oh they're not such a bad lot really," they'll tell weeping DUP members. "That McGuinness one is alright if you get to know him and Michelle Gildernew has done a lot for farmers."
"But what about Kelly?" our DUP heroes will plaintively whine.
And the flustered UUP stalwarts will suck in their breath, fiddle with their pipes, scattering tobacco on the floor, and gaze, with haunted looks, deep into their tiny glasses of sherry.
Gerry Kelly, and the way he might look at you. Oh yes, they remember that. The way he never, ever blinked and that even when his back was turned and he was talking to someone else, you felt as if he was watching you.


ANYWAY, in fairness to top Tory David Cameron, he and his Eton buddies couldn't give a toss if the Paddies, Micks and Biddies in the DUP and UUP get on or not. They'd just like an extra dozen or so MPs after the next general election. And, in the same spirit of fairness, to unionists this all makes a lot of sense.
There's not really all that much difference between the two parties any more. Even the class differences are a thing of the past.
In years gone by the UUP was hated by Paisley's people as being 'big house unionists'. Now, due in no small part to huge personal efforts by Peter and Iris Robinson, along with Junior's strenuous outreach to the North's developer community, DUP members also live in big houses. Some of them, I'm told, can be seen from space. So why not combine to keep the croppies down where Nigel believes Revelations 21:8 says they should be ("a fiery lake of burning sulfur" for those of you who skipped Bible class).
Leaving us with just one question. If you're building an alliance of political parties committed to maintaining the Union between the North and Britain, who share a common bond of loathing republicans to a point where all they can do is froth incoherently at the mouth, why didn't they invite the SDLP as well?

An Phoblacht Magazine
AN PHOBLACHT MAGAZINE:
Don't miss your chance to get the second edition of the 2019 magazine, published to coincide with Easter Week
This special edition which focuses on Irish Unity, features articles by Pearse Doherty, Dr Thomas Paul and Martina Anderson.
Pearse sets out the argument for an United Ireland Economy whilst Pat Sheehan makes the case for a universally free all-island health service.
Other articles include, 'Ceist teanga in Éirinn Aontaithe', 'Getting to a new Ireland' and 'Ireland 1918-22: The people's revolution'.