21 January 2010 Edition
Intense negotiations at Stormont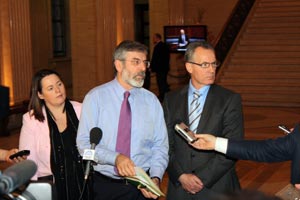 BY LAURA FRIEL
Intense and comprehensive negotiations between Sinn Féin and the DUP began in earnest last Thursday. Sinn Féin's team included Gerry Adams and Martin McGuinness, Conor Murphy and Michelle Gildernew.
Adams confirmed Sinn Féin leaders had cleared their diaries to facilitate talks. "We are here to do business," Adams told the media. Earlier, Sinn Féin had postponed a crunch meeting with the party's ruling body pending "a definitive report about the current discussions".
In a statement read out by Speaker Willie Hay on Monday, Peter Robinson had cited negotiations concerning the transfer of policing and justice powers as one of his three priorities during the six weeks he intended to stand down as First Minister.
Headed by Peter Robinson, the DUP negotiating team included acting First Minister Arlene Foster, party deputy Nigel Dodds and members of the Stormont executive Nelson McCausland and Edwin Poots.
A spokesperson for the DUP said the party was a 100 percent behind the negotiations. "The discussions are ongoing, positive and constructive. There is a commitment to work through the issues and get matters resolved," said the DUP.
Meanwhile, the Irish and British governments added their weight to the negotiations. Although neither government was directly involved in the talks, they described themselves as "monitoring" progress. Both governments said they believed there was a real possibility of a breakthrough and described the progress of the negotiations as "very encouraging".
Speaking after a meeting with British Prime Minister Gordon Brown, Taoiseach Brian Cowen said he was encouraged by the ongoing talks between Sinn Féin and the DUP and described the outstanding issues as "ready for agreement and resolution". "It was time to act," said Cowen.
"The devolution of policing and justice completes a process that people have wanted to see happen and the remaining obstacles to it happening can be removed. The issues have been under discussion for some time and, in our view, are ready for agreement and resolution," said Cowen.
Gordon Brown spoke of "intensive work" being undertaken towards completion of the transfers of policing and justice powers. Brown said the negotiations between Sinn Féin and the DUP were "evidence that the parties are serious about completing the job".
In the interim both Sinn Féin and the DUP were being careful not to say anything that might jeopardise any progress being made. The message from both parties was business was serious, ongoing and focused.
As 'An Phoblacht' goes to press, high level exchanges continue.