21 January 2010 Edition
Poor prognosis for Meath and Louth hospitals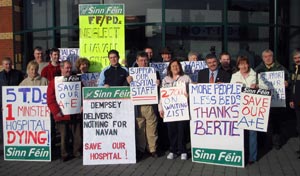 BY ELLA O'DWYER
A DOCUMENT marked "Strictly Private and Confidential" was obtained last week by Meath Sinn Féin Councillor Joe Reilly about proposed closures this year of wards at Our Lady's Hospital, Navan.
The document outlined the Louth Meath Hospital Group's input into the Regional Development Plan and proposes service reductions to the value of €11.476 million.
The proposed ward closures could lead to reductions in the numbers of frontline staff – junior doctors, nurses, paramedics and agency staff.
It also looks at the option of merging orthopedic services with Cappagh Hospital Dublin.
These cuts, and particularly the potential closure of wards at Our Lady's Hospital, Navan, will, according to Councillor Reilly, have a very serious effect on services to people in the Louth Meath area.
"In a growing area like Meath and Louth, with huge populations, we can't afford to have fewer hospital places.
"Indeed, we have a long waiting list of people needing treatment as things stand.
"My first concern is the care of patients. 'The Programme for Transformation', the policy document of the Health Service Executive, is no longer viable because that programme centred on a strategy to build a new hospital in the area and that's not going to happen now with the changed economic circumstances.
"The HSE has been talking about putting more and more people into the Lourdes Hospital in Drogheda. That hospital can no longer care for the health needs of people in the region. It's overcrowded and not fit as a regional hospital.
"They want to take services out of Dundalk Hospital and move them to Drogheda, and to take services out of Meath and move them to Drogheda.
"I don't know if these proposals will go through but there will certainly be cutbacks because of the reduction of the health budget."
Joe Reilly says there's a growing disillusionment amongst the public with the health services.
"The Government has promised on more than one occasion that we are going to have a world-class health service. That now is about as realistic as us having a proper banking system.
"I've been campaigning on the hospital issue for years to have investment in a regional hospital and health services in the Navan area. But I have to emphasise that anything I or Sinn Féin do in the area is with the best interests of the patients and not parochialism."
There's a lot of public concern out there, the Sinn Féin councillor says.
"Navan has to maintain the orthopaedic service all year round for elective surgery like hip replacements. Navan is now the fourth largest town in Ireland.
"We need to maintain our A&E services, we need to keep our medical wards and out-patients services.
"The HSE is looking to make savings through pay cuts. They're concentrating on reducing frontline staff  – junior doctors, nurses, consultants and paramedics. They're looking at the very staff that allow hospitals to function.
"They should be looking at making savings in terms of administration in the north-east and the number of buildings that they rent on an annual basis. The first place they look at should not be the frontline services but areas where there is duplication of services."
Louth Sinn Féin TD Arthur Morgan says the move will impact negatively on hospitals in the capital too.
"They're proposing merging services with Cappagh Hospital in Dublin. Given that those two hospitals are working to capacity, the additional patients from Meath will put huge pressure on the Dublin facilities. So it's not just the north-east that will be affected but Dublin too.
"This is an extension of the Government's privatisation policy where people will be driven from attending public hospitals for want of beds and services and more often than not putting people into heavy debt through private treatment.
"The proposal is designed to cut services to the value of over €11 million and this after the draconian cuts the Government unleashed in the Budget. Compare that to the massive funds they have thrown at the banking sector."