21 January 2010 Edition
OPINION: Can students rediscover their zeal to change society for the better?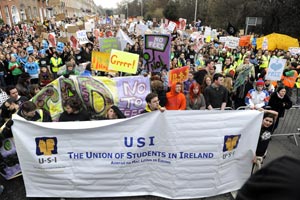 The battle for the ideological heart of the Union of Students in Ireland

BY SEÁN Ó SÉ
Cathaoirleach, Martin Hurson Sinn Féin Cumann
University College Cork
Oifigeach Gaeilge,
UCC Students' Union
(In a personal capacity)

THERE'S a misconception that all students must harbour some revolutionary idealism. This is easy to understand when you look back at history.
The first revolutionaries against the rule of the Czar in Russia emerged from the country's universities.
Irish universities such as University College Cork were very wary of debating societies in the 19th century because they believed that they would be a hotbed for Fenian activity. Similarly, many of the leaders of the Cuban revolution were radicalised during their college days. However, apathy seems to be the most prevalent political thought amongst today's students.
Unfortunately, many young people are turned off politics when they look at the actions of Fianna Fáil and the tribunals. Young people have been turned off by the politics of the Progressive Democrats, who sold the country away to big business. Who could blame students for their apathy when they see the Green Party selling out on all their ideals in order to get into power? The political elite has not set a good example for the youth of the country.
The most political contact that the average student would have is with their students' union.
Students' unions are an integral part of nearly every campus in the country. They provide services and campaign on issues that affect the student body. They are also very effective in bargaining with college authorities to make life easier for the students that they represent.
Some students' unions have become invaluable to students who have borne the brunt of the economic decline, especially students from working-class backgrounds who have found it hard to pay their way through third-level education.
The national body representing student interests is the Union of Students in Ireland (USI). This is the organisation that is supposed to fully represent the interests of students at a national level. Apart from in a small number of third-level institutions, most third-level students are represented by USI. It operates in the same manner as any other union, with an annual membership fee, a national congress that decides policy and the direction of the organisation, and a full-time officer board that is in charge of the day-to-day running of the union.
USI was founded in 1959, at a time when the world was changing radically. Post-war Europe had brought many new ideas into a country that was still stuck in the world of the 1930s. The aim of the organisation was to educate students as to their rights and to fight for better conditions for the student population. It was an era when very few went on to third-level education and those who were lucky enough to make it often fell on hard times, especially those who were funded by a scholarship or a grant. USI emerged at a time when many things were changing and Ireland began opening up to the world. It was also a time when student activism was perhaps at its greatest.
Those who involved themselves in student politics in that era took part in protests against the Vietnam War and got involved in such local issues as the Dublin Housing Action Committee. Many young republicans, such as members of the Republican Club in University College Dublin, became actively involved in these campaigns and in student politics.
During the early days of USI there was no problem in organising students to take to the streets in their thousands in order to campaign on the pertinent issues of the time. So why do we not see weekly student protests on the streets of Dublin or the other cities around the country today?
A major problem is with those who become involved in the body. USI has produced many public figures of Ireland today. Joe Duffy of RTÉ and Labour Party leader Eamon Gilmore are both former presidents of the union. Young careerists in Ireland's third-level institutions see USI as a means of furthering their own career prospects. While they may be joining a union, they do not operate within USI like traditional union organisers. This is perhaps one of the biggest debates that takes place within USI. Some of its members believe that USI should be run like a representative body that lobbies for students and that its only concern should be the student population. These are the same people who, once their student life is over, will become part of groups such as IBEC and lobby only for the interests of big business and profit.
The other side of USI is the traditional student radical. These are people who see the bigger picture. At a heated debate at the 2009 USI National Congress on the issue of affiliation with the Unite trade union, one emotive speaker summed it up when he declared: "This is a battle for the ideological heart of USI."
While these two directly-opposed viewpoints exist within the body, it is easy to understand how USI finds it hard to achieve its aims.
There is still a lot of good work done within USI. The campaign against the reintroduction of third-level fees was without doubt a major influence on the Programme for Government, which put fees on hold. USI also runs other very important campaigns tackling issues such as sexual health and equality. However, if USI is to be a progressive force in this country it needs to decide whether it is a union or not and come out and join with workers and the unemployed and be a force for change.
 USI campaign against the reintroduction of third-level fees major influence on the Programme for Government