21 January 2010 Edition
Banking on an inquiry that pays off for the public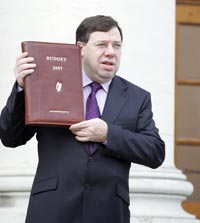 BY JOANNE SPAIN
IN a stark reminder of how today's news can become tomorrow's fish-shop wrapping paper, the resumption of the Dáil this week was dominated not by debate on the recently passed Budget but by calls for an inquiry into the banking crisis.
To be fair, nothing moves that fast in the Irish economy. The financial sector has been in a state of delayed meltdown since summer 2008 but it is only now in 2010 that we are even talking about an inquiry into the banking debacle. The failure to deal with the details of what was described as one of the most savage Budgets of all time is a reflection of how expansive and deep the economic problems of this state are (and Fine Gael and Labour probably don't want to say much more on a Budget that they would have implemented themselves, if not worse, given half the chance).
So, the first day back in the Dáil following the Christmas break dealt with not only statements on the banks but also a Private Members' Motion on a banking inquiry.
The momentum for this inquiry (though Sinn Féin has been calling for such an investigation since 2008) began to gather when the newly-appointed governor of the Central Bank, Patrick Honohan, called for one in December during questioning by the Joint Oireachtas Committee on Economic Regulatory Affairs. The 'cat among the pigeons', as most bankers probably call him, candidly spoke about the complete breakdown in regulation and called for an inquiry that would include experts and academics as well as politicians.
Sinn Féin, of course, has long supported the call for an inquiry but the need for truth and justice was immediately hopped on by certain other Opposition parties happy not to dwell on the aforementioned Budget and with an eye to having a go once more at the unstable ground under the Coalition's feet.
Fine Gael is well-used to dealing with banking scandals (remember AIB in the late 1980s?) so was quick off the mark with its own tips.
The Government, not to be outdone in wanting to solve the banking conundrum (they've thrown billions at it already and don't seem to be making a dent) followed by sending Pat Carey out on the media treadmill to make mild-mannered announcements regarding Cabinet decisions and possible inquiries.
It came as no surprise that the initial mooted suggestions for an inquiry involved one shrouded in secrecy – Brian Cowen was, after all, Finance Minister for much of the last decade.
The Green Party, hoping to hang on to any semblance of principle, caused waves on that one, calling for a public inquiry. What we got after the Green Party stamped their feet (and this is becoming a bit boring as a trend now) was a watered-down version of the Government's proposals, with a tiny public element to keep the low-watt lightbulbs happy.
The Commission of Investigation will be set up following reports by Patrick Honohan and outside experts and these reports will form the basis of the commission's terms of reference. An Oireachtas committee will get to meet Honohan and his band of little nameless experts before they compile their reports and then get an exclusive look at the reports (after everyone in the Department of Finance) when they're produced.
They'll get to make comments on the reports but the Government doesn't say if these comments will be reflected in any form. Now the last time this government set up a commission it was the Commission on Taxation. That was sent off with narrow terms of reference, at great expense to the taxpayer, and its findings were then ignored by the Government.
More to the point is who will sit on this commission and how much it will cost the taxpayer. Once more we have a group of well-paid men being paid more to sit around and examine the doings of other well-paid men – because, of course, this will teach us how to run the economy better.
Its terms of reference will also be hugely significant. The carry-on in the banks has been so well dissected and speculated on at this stage that the average bar-stool commentator could wax lyrical on the finer details of Anglo transactions to board members. Bank managers involved in greedy and oft-times corrupt practices is not a headline shocker. We are, after all, witnesses to the DIRT tribunal, foreign exchange overcharging and all other manner of scandals related to our finance institutions. We are also, sadly, the same people who re-elected Beverley Flynn to the Dáil despite her participation in tax scandals while she was an employee of National Irish Bank.
What really matters is how the regulation of the banks was allowed to fail so badly. In this, the Government is entirely complicit.
As pointed out by Sinn Féin Finance spokesperson Arthur Morgan on Tuesday in the Dáil, as far back as 2005 an Oireachtas Committee, on which Caoimhghín Ó Caoláin sat, produced a report calling for a raft of regulatory changes to the banking system, including legislation to protect whistleblowers and greater fines for transgressions. The Government ignored the report and the subsequent warnings of what was coming. One indicator used by most regulatory bodies to identify banks increasing their risk to unstable levels is hyper-growth on balance sheets. An annual growth rate of 20% and over can be a sign of excessive risk. Yet, over nine years, Anglo Irish Bank surpassed this rate eight times, and each of the other main banks surpassed it on occasion.
The signs were there and were being ignored by the Regulator and the Government. How regulation was allowed to become so lax and the Government policies that preceded this should be the main focus of the inquiry.
Of equal importance to the inquiry itself is how the outcome is dealt with. The public are about to hand over to the banks approximately €50 billion in NAMA bonds and countless billions more in recapitalisation funds, on top of the billions already given to Anglo, AIB and Bank of Ireland.
The system is not just broke; it was broken and we don't need an inquiry to unveil some of those behind its downfall.
The nationalisation of Anglo Irish Bank and the revelations about the carry-on of its senior management figures before and after the banking guarantee were shocking, even to those of us accustomed to the cronyism and corruption in this state. Yet all those who have been 'removed' from their posts to date in the banking sector have left with golden handshakes in the form of large pensions. Not one banker in Ireland has been led away in handcuffs, unlike their counterparts in the United States even though, relatively speaking, our bankers are culpable of even greater financial crimes.
The two-tier justice system that exists for those who steal buttons and those who steal billions has been in evidence for some time. The judicial inquiries (or tribunals) that have run for years at great expense to the taxpayers produced very little by way of sentencing or fines.
The fact that a Taoiseach whose name was so badly muddied by a tribunal was allowed to lead a country into an election the following summer bore testament to the ineffectiveness of such inquiries into grand-scale 'white-collar' crime.
An inquiry into the banking crisis now must be many things: it must be transparent; it must be all-encompassing; it must have the powers to compel witnesses; it must be conducted by all parties and possibly outside experts; it must have a tight timeline – but, most importantly, it must be acted upon.
Those who are found guilty of corruption must be punished. Bonuses must be repaid. Jail sentences must be handed down. People must be fired. Politicians found complicit must be forced to resign and face justice. And, ultimately, lessons must be learnt.
The Irish economy is on the precipice of a collapse and much of that is the banks' own doing. We must never again be brought to such a dangerous point by a sector so bent on making profit for itself and those around it that it flaunts every rule allegedly in place to govern it.