14 January 2010 Edition
Councillor's defection smacks of political careerism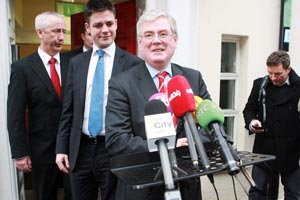 KILLIAN FORDE has resigned from Sinn Féin as Dublin City Councillor for the Donaghmede Ward and has defected to the Labour Party, taking the Sinn Féin seat with him.
The Cathaoirleach of the Patrick Cannon Sinn Féin Cumann, Donaghmede, and Ard Chomhairle member, MÍCHEÁL Mac DONNCHA, gives the local party's view.
ON FRIDAY 8 January, Dublin City Councillor Killian Forde announced that he was resigning from Sinn Féin with immediate effect. He refused to honour the pledge he took as a Sinn Féin candidate and has taken with him the seat he won as a party candidate, on a party policy platform, with the support of the party locally and nationally and with the votes of Sinn Féin supporters in the Donaghmede Ward.
Forde subsequently announced he was joining the Labour Party in advance of the monthly City Council meeting on Monday 11 January.
The immediate background to the resignation was the debate on the 2010 budget (known as 'The Estimates') for Dublin City Council.
Forde was elected chair of the council's Finance Committee following his election as a Sinn Féin councillor in June 2009. He owed his position as chair of this key committee to his membership of the Sinn Féin group on the council. He was involved in the negotiation of the budget between the Finance Committee and council management.
At a meeting of Dublin Sinn Féin, on 17 December, it was agreed that while the Sinn Féin councillors, including Killian Forde, had attempted to ensure a fair budget, the package presented by council management was unacceptable. It included the imposition of a new refuse charge on 40,000 households in the City who were previously exempted from refuse charges because of their low incomes. On this basis, the five Sinn Féin councillors were mandated to vote against the Dublin City Council budget.

WAIVERS
On 18 December, the decision of Dublin Sinn Féin was announced in a public statement from Councillor Dessie Ellis on behalf of the Sinn Féin councillors. Ellis said:
"Sinn Féin has been working with other parties and officials on the council in recent weeks to reach agreement on the 2010 estimates.
"Our aims have been to protect frontline services and jobs and to ensure the most efficient use of public money. We have also argued that next year's budget needs to ensure that families on low incomes and living at risk of poverty are protected.
"Unfortunately, the proposals on the table fall short of this. The changes to the bin charge waiver will have a devastating impact on families who are just coming to terms with the savage reductions in social welfare imposed by the Government's Budget.
"Some 40% of households in the Dublin City Council area are currently covered by the bin charge waiver scheme. These are pensioners, families on social welfare and those earning the minimum wage. It is proposed that these families would pay a €5.60 charge per bin lift (weekly or fortnightly) in 2010, with the exception of four free bin lifts per year. The Council estimates that this new charge will bring in an additional €6 million next year. At the same time, the council is proposing to reduce the business rate by 2%, resulting in the loss of €7 million in revenue for 2010.
"The council does not need to do this. The business rate could be maintained at its current level, allowing for the bin charge waiver to continue in its present form. This would be the first time for many years that Dublin City Council has not increased the business rate."
Sinn Féin unsuccessfully urged the Labour Party to support its proposal to keep the business rate as it was and for a public commitment from the City Manager to fully restore the existing waiver system.

THE VOTE
At the City Council Estimates meeting, on 21 December, Killian Forde presented the budget on behalf of the Finance Committee and voted for it. The other Sinn Féin councillors – Larry O'Toole, Dessie Ellis, Críona Ní Dhálaigh and Séamus McGrattan – voted against.
On 8 January Killian Forde informed the Cathaoirleach of Dublin Sinn Féin, Eoin Ó Broin, that he was resigning from the party. Calling for him to do "the honourable thing" and hand the seat back to Sinn Féin, Ó Broin said afterwards in a public statement:
"Sinn Féin is an activist, campaigning party that puts policies before personalities. It is not a platform for careerist politicians."
He reiterated that Killian Forde was elected as chairperson of the Council Finance Committee on the basis of his membership of the Sinn Féin group.
"It is clear now that his support for a Labour Party-sponsored City Council budget that imposes new charges on low-income households in this City was a prelude to his defection to that party.
"The defection of Killian Forde is about advancing a political career rather than political ideas."
Focus on resignations of the few does disservice to hard work of the many
BY CLLR PÁDRAIG Mac LOCHLAINN
Chairperson, Sinn Féin National Councillors' Forum


NO DOUBT by now you will have read somewhere that this latest resignation is further evidence of a 'malaise in Sinn Féin' in the 26 Counties.
While the loss of any councillor is a blow to our comrades in Dublin working to rebuild Left republican politics across the city, the simple facts are that, for a long time now, it has been clear to anyone who knew him that Killian Forde was in the wrong party.
He should honour his pledge and give his seat back to the party in whose name he was only recently elected. That he is not doing this is more of a reflection on his character than on anyone in Sinn Féin.
However, we really need to put this resignation into context.
Following last year's local elections, there are over 120 Sinn Féin city, county, borough, and town councillors and an Udarás member in the 26 Counties. Four of them have since resigned; 120 of our councillors are still out there every day across the state working for their communities and seeking to build our brand of politics.
To focus too much on the resignations of the very few is a disservice to the hard work of the very many.
Let's also be clear about the 2009 local elections. Sinn Féin entered that election with 51 city and county council seats. We emerged afterwards with 54 seats, consolidating the huge ground gained in the previous local elections in 2004 in difficult circumstances following the overall disappointment of the 2007 Dáil election. But that's still not the full picture.
While we lost ground in Dublin and Wexford, we gained two seats on Cork City Council, two seats on Wicklow County Council, and enjoyed a one-seat gain on Limerick City Council and Donegal, Louth, Cavan, North Tipperary, Mayo, and Waterford County Councils.
We also broke through with new Sinn Féin representation on town councils in Kilkenny, Offaly, Kildare, Roscommon, Laois, Clare and Carlow.
And I haven't even mentioned the Six Counties, where Sinn Féin has 110 councillors, 28 MLAs, and five MPs.
So remember, when our opponents tell us that we are in 'freefall', the actual facts are that a mere handful of our 230 councillors across the 32 Counties have resigned, for a myriad of reasons.
Our task as Irish republicans in the time ahead is to assist and encourage our hard-working comrades in Dublin and our seven Sinn Féin councillors across Dublin. They have proven themselves to be honourable people willing to put their shoulder to the wheel in promoting our party and all that we stand for. That's who we really need to focus on.