14 January 2010 Edition
Leading Sinn Féin politicians under threat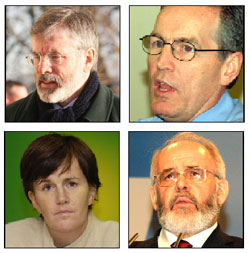 Threats purporting to emanate from the shadowy loyalist organisation the Orange Volunteers have been issued against leading Sinn Féin politicians including the party President Gerry Adams.
The PSNI informed all those who have been threatened that they were being targeted by the loyalist group, which is based mostly around the South Antrim area.
As well as party leader Gerry Adams, those under threat include Stormont Education Minister Caitríona Ruane and Junior Minister Gerry Kelly.
Indeed as 'An Phoblacht' goes to press Kelly has revealed that a third threat has been issued against him.
Speaking to 'An Phoblacht', Kelly said that the PSNI arrived at his door at 1am on Wednesday morning 13 January to inform him of the threat issued in the name of the Orange Volunteers.
Prior to this threat Gerry Adams was told that his life is under threat while a warning from the Orange Volunteers was phoned to a Belfast PSNI station saying that Caitríona Ruane would be killed.
In a further incident Mid-Ulster representative Francie Molloy disclosed that on Thursday 7 January he had received a telephone warning from, "a man with an English accent", claiming that a bomb had been left at his home and it would explode in an hour.
Gerry Kelly went on to say that Sinn Féin representatives have been under threat from many and varied organisations over the years yet it hasn't deflected the party.
"It is hard to say who is actually behind this series of threats, as our party members have been threatened by groups using cover names and others flying under flags of convenience acting on the failed securocrat agenda.
"What we do know is that we are at a crucial stage in negotiations and we will not be deterred by these threats."