7 January 2010 Edition
Hanafin comments will cause panic - Ó Snodaigh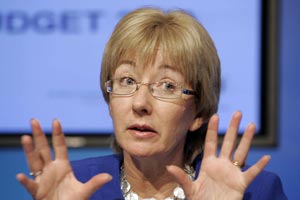 RESPONDING to recent comments by Minister for Social and Family Affairs Mary Hanafin in relation to possible cuts to the lone parents' allowance, Sinn Féin spokesperson on Social Welfare Aengus Ó Snodaigh TD has said that, coming on the back of social welfare cuts coming into effect next week, her remarks will cause panic amongst those dependent on the payment.
Aengus Ó Snodaigh said:
"Those dependent on social welfare will see their payments and child benefit being cut from next week.  They had to make it through the Christmas period without the normal Christmas social welfare payment.  Many will have turned to moneylenders.  Minister Mary Hanafin chose, in the midst of the Christmas holidays, to raise the threat of removing the lone parents' allowance from certain recipients. Again, as we enter the new year we see the most vulnerable are at the top of the government's target list.
"Sinn Féin has serious concerns regarding the proposals to limit the duration of the One Parent Family Payment. This represents a form of threat, targeting those who are struggling to raise children, re-educate themselves or try to get into the workforce. Twenty-three per cent of lone parents have no formal education qualification, many more left school without a leaving cert. The proposals the minister has been talking about fail to demonstrate how these parents and their children will be supported in the future once their child reaches 13.
"Without adequate education and childcare supports these 'reforms' have the potential to actually worsen the situation of those who presently rely on these supports. Rather than threatening and cutting the incomes of  those barely getting by, the Government should be ensuring that they have access to properly paid work, retraining and educational opportunities."