7 January 2010 Edition
Another View by Eoin Ó Broin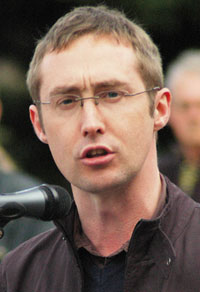 Building blocks for a politics of change
2009 was an interesting year for the Left in the 26 Counties. We suffered significant defeats with the passing of two right-wing Budgets and the Lisbon Treaty. But a series of developments throughout the year should give hope to those of us who want to see a better 2010.
In the political, trade union and civic society spheres there were developments and initiatives that have greatly strengthened the Left and, if used wisely in the months ahead, could become important building blocks for a politics of change.
In his speech at the Sinn Féin Ard Fheis in February, Gerry Adams called for a new direction in 26 County politics. He said:
"Our society needs core values based on social justice, fairness, equality and decency... There can be an egalitarian alternative to the politics of greed, inefficiency, waste and corruption."
Adams called on the Labour Party "not to prop up" either Fianna Fáil or Fine Gael. Instead, he argued:
"Labour should explore with us and others the potential for co-operation in the future."
While Labour leader Eamon Gilmore ruled out the possibility of a Left alliance in the run-up to any general election, there was a shift both in party rhetoric and support. 
A February TNS/MRBI poll put the Labour Party on 24%, the highest rating in the party's history and 4% above their historic 'Spring Tide' result in 1992.
Addressing delegates at Labour's Ard Fheis in March, Gilmore declared:
"To end crony capitalism, you have to end crony politics."
He told delegates that Labour's mission is "to build a new, better and fairer Ireland".
With Fianna Fáil's poll ratings at historic lows, the possibility of Labour becoming the second-largest party in the state was no longer unimaginable.
In the June European elections, the combined Left vote in the 26 Counties rose to its highest in the history of the state. At a significant 30%, a growing body of public opinion was rejecting the conservative politics of Fianna Fáil, Fine Gael and the Progressive Democrats in favour of a variety of parties that advocate social, economic and political change.
While this shift had taken place almost by accident, the idea that it would be possible to build a progressive electoral base broad enough to elect a government without Fianna Fáil or Fine Gael was clearly gaining ground.
The community and voluntary sector also produced important initiatives. 
In January, the Community Platform, a network of 28 non-governmental organisations working to combat poverty, social exclusion and inequality, launched 'A Better Ireland is Possible – Towards an Alternative Vision for Ireland'. Co-authored by academics Peadar Kirby and Mary Murphy, the report was a devastating critique of the inequalities produced by the Celtic Tiger. It also outlined an alternative model of social and economic development for the state.
Other important think-tanks such as TASC and Social Justice Ireland produced a range of materials that combined academic rigour with a clear commitment to radical social and economic change.
TASC's progressive economy discussion board provided a new space from which to challenge the right-wing economic consensus that pervades Irish society. Its HEAP Report (Hierarchy of Earnings, Attributes and Privilege), co-published with ICTU in November, detailed the level of income inequality in Irish society (www.tascnet.ie).
Social Justice Ireland's publications around both Budgets detailed the practical alternatives required to create a more prosperous and equal society.
There have also been important network and campaign initiatives to emerge from within the community and voluntary sector during the year. 
In June, a loose network called Is Féidir Linn held a conference entitled 'Shaping Our Future'. Bringing together community activists, voluntary sector organisations, trade unions and political parties of the Left, it discussed social and economic alternatives to the status quo and agreed a draft manifesto called 'A Vision for an Inclusive, Equal, and Sustainable Ireland' (http://communityplatform.ie).
In August, 11 NGOs and trade unions formed 'The Poor Can't Pay' as a campaign alliance opposed to cutting the minimum wage and social welfare payments in the Budget (www.thepoorcantpay.ie). By September, the alliance had grown to include over 30 national organisations. The significance of the campaign was not only the solidarity between the diverse range of organisations but their willingness to campaign together in opposition to what they rightly feared would be a Government onslaught on low-income families.
That the trade unions featured prominently in these civic society initiatives was also significant given their historic disconnect from the community and voluntary sector. SIPTU was also instrumental in assisting Community Development Projects to mobilise against cuts to vital community services.
However, the most significant development within the trade union movement was the 'Get Up, Stand Up' campaign (www.getupstandup .ie) launched in November by the Irish Congress of Trade Unions.
Centred on ICTU's 10-point alternative plan to rebuild the economy, the campaign brought 750,000 people out on to the streets on 6 November calling for a better, fairer response to the recession. The campaign called for government investment in jobs, protection of those on low incomes, no cuts to social welfare and a fairer tax system. 
Get Up, Stand Up saw ICTU invest significant resources in an attempt to persuade public opinion of the merits of an alternative to the Fianna Fáil/Fine Gael economic consensus. More importantly, it sought to bring together workers, the unemployed, the community and voluntary sector and political parties behind a single agenda for change.
None of these developments has transformed 26 County politics. Indeed, despite the efforts of activists in political parties, trade unions and civic society, the Government was able to pass its most right-wing budget to date that punished the poor and protected the rich.
That said, each of the developments above does indicate an important shift. 
More voters than ever before are open to the politics of change. There are more spaces for dialogue between political parties, trade unions and civic society than previously existed. We are also being equipped with better arguments and more detailed policies from a range of sources. Crucially, the possibility of a real alliance for change of left-wing political parties, trade unions and community and voluntary sector organisations appears tantalisingly close.
2010 offers us all a small window of opportunity to build that alliance for change and force a realignment of politics in the state, away from the Fianna Fáil/Fine Gael axis of the last 80 years and on to a Left/Right axis. 2009 has indeed been interesting, but 2010 could be much better.

An Phoblacht Magazine
AN PHOBLACHT MAGAZINE:
Don't miss your chance to get the second edition of the 2019 magazine, published to coincide with Easter Week
This special edition which focuses on Irish Unity, features articles by Pearse Doherty, Dr Thomas Paul and Martina Anderson.
Pearse sets out the argument for an United Ireland Economy whilst Pat Sheehan makes the case for a universally free all-island health service.
Other articles include, 'Ceist teanga in Éirinn Aontaithe', 'Getting to a new Ireland' and 'Ireland 1918-22: The people's revolution'.