7 January 2010 Edition
O'Dea apologises and pays damages to Sinn Féin Councillor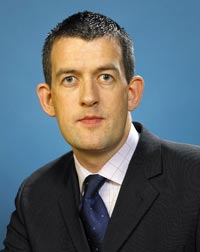 GOVERNMENT Minister Willie O'Dea has been forced to withdraw defamatory comments he made against Limerick City Sinn Féin Councillor and joint party Treasurer Maurice Quinlivan in the run-up to the local government elections last June.
In a newspaper interview last March Willie O'Dea made comments concerning Maurice Quinlivan which were untrue and he now withdraws the defamatory statement.
The defamatory claims followed criticism of the Fianna Fáil minister by Maurice Quinlivan over revelations that six civil servants were working on constituency matters for Mr O'Dea at a total cost to taxpayers of €165,000 to  €225,000.
settled
Defamation proceedings brought by Quinlivan against Willie O'Dea over his claims were settled in the High Court this week.
The terms of the settlement saw an apology read out in the High Court, whereby Willie O'Dea withdrew fully the defamatory statements made by him against Mr. Quinlivan.
Willie O'Dea apologised unreservedly to Mr. Quinlivan for the harm done to his reputation and accepted that Mr. Quinlivan is a person of exemplary character.
The Minister withdrew the misleading allegations made by him in his affidavit to the High Court.
The settlement sees O'Dea paying damages to Maurice Quinlivan and discharges Quinlivan's legal costs.