10 December 2009 Edition
Martin Ferris highlights Corrib failure in debate on Foreshore Bill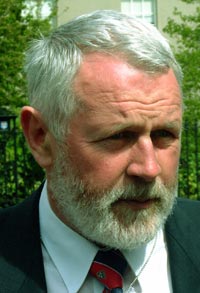 NEW LAWS being debated in the Dáil about the granting of foreshore licences for coastal developments have provoked Sinn Féin TD Martin Ferris to raise how the Corrib Gas Project licence was first granted by a Fianna Fáil minister.
The Sinn Féin spokesperson on Natural Resources highlighted the failure to consult the local community and he stressed the need to consider the economic and environmental aspects of major projects based in coastal areas.
Deputy Ferris said:
"The foreshore licence was granted to Corrib Gas Project companies in May 2002 by Minister Frank Fahey just prior to the general election. There has been no indication that a proper consultation process was followed in that regard.
"The foreshore is defined as the area between the high-water mark and the 12-mile sea limit and yet the pipeline to be laid at Rossport, prior to the recent decision of An Bord Pleanála to request that it be re-routed, was nine kilometres from the landfall of the pipeline coming onshore."
AMENDMENT
The Kerry North TD has submitted an amendment setting out specifically that the consultation process should also involve relevant local groups with a proven interest in the area for which the licence has been applied for. This could include, for example, local fishermen and others with an economic interest in the foreshore or representative local groups with concerns around the environmental impact and safety issues.
"It is also important that when a major project such as Corrib, involving the oil and gas reserves that lie off our coast are involved in the granting of a foreshore licence, that the criteria for examining the merit of the proposal also take into account other than the strictly environmental issues.
"Had such criteria been applied to the Corrib proposal there might well have been a different outcome. Indeed, in his report rejecting the application in 2002, Inspector Kevin Moore of An Bord Pleanála did refer to the economic aspects of the proposal and claimed that the proposal did not fit in with the need for balanced and sustainable regional development, including in its economic aspects."