10 December 2009 Edition
Derry Remembers 25th anniversaries of fallen Volunteers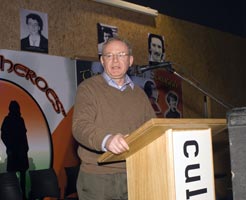 McGuinness calls for publication of Robinson letter on Transfer
A SERIES of events commemorating four IRA Volunteers whose 25th anniversaries fell last week were held in Derry City last Sunday , 6 December.
Volunteers Danny Doherty and Willie Fleming were shot dead by the SAS in Derry City on 6 December 1984. Volunteers Antoine Mac Giolla Bhrighde from Magherafelt in County Derry and Ciarán Fleming, a cousin of Willie Fleming died on active service on the Fermanagh border on 2 December that year.
A well attended wreath laying ceremony was held at the Republican Memorial Garden in the Waterside area of the city on Sunday 6 at 1pm. Former H Block POW Leo 'Archie' Fleming, a brother of Willie Fleming and Ciarán's cousin chaired the proceedings.
Wreaths were laid on behalf of the Republican Movement, former POWs and the families of the dead Volunteers.
Sara Griffin brought the ceremony to a close with a moving rendition of 'Amhrán na bhFian.'
Later that afternoon two of Derry's foremost football clubs played a challenge match for the Cú Chulainn Cup. In a hard fought match held in wind swept conditions the Waterside based Pearse's edged out the Creggan men by a point.
Later that evening in the newly opened Gaelaras in Derry Sinn Féin's Martin McGuinness delivered a talk in honour of the Volunteers and their families.
During the course of his address his said:
"December 1984 will go down in Irish history as another example of the depths to which the British military forces were willing to stoop in their attempts to break the will of the republican people. 
"IRA Volunteers Antoine Mac Giolla Bhrighde, Ciarán Fleming, Danny Doherty and Willie Fleming all died in 1984 – 25 years ago fighting for Irish freedom – a goal not yet achieved. We have been through many trials and tribulations since those tragic days. The struggle has evolved through many phases since then. It has seen intense negotiations, cessations, breakdowns and eventually all-party talks leading to the Good Friday Agreement. 
"I would not presume to second guess what these four brave Volunteers would think were we are today but I am extremely humbled and appreciative of the unstinting support that the Sinn Féin leadership has received from their families and I assure you that we will continue to expend all our efforts to achieve the united, sovereign and free Ireland that your sons, brothers, loved ones so gallantly gave everything to achieve.  

"I have consistently pointed out that I am absolutely committed to making a success of the Assembly and its all-Ireland institutions. I passionately want them to work and to be expanded on. However, they have to work on the basis of partnership and equality as laid out in the Good Friday Agreement and the St Andrews Review. 
"It is both worth noting and interesting to observe what the consequences are for political leaders of failing to stand by and fight for the agreements that you make. A case in point is David Trimble who after signing up to the Good Friday Agreement, failed the Agreement by refusing to embrace the change that it would bring. 
"Such an approach only served to – not just destroy his leadership but to totally confuse the unionist electorate and the rest as they say is history. 
"Enter Ian Paisley! 
"In one of our first conversations Ian Paisley said to me  –  and I quote 'We can rule ourselves, we don't need these direct rule Ministers coming over here telling us what to do." Well, no disagreement there. 
"Just over one year later, exit Ian Paisley – enter Peter Robinson. His first big test was the European elections. 
"Who mentioned confusion? What would the unionist electorate make of the Deputy Leader of the DUP, Nigel Dodds as Finance Minister going off to see Sinn Féin's Economy Spokesperson, Mitchel McLaughlin to discuss financial matters while DUP European Candidate, Diane Dodds was campaigning on a ticket of smashing Sinn Féin. Who mentioned confusion within unionism? 
"All of you are acutely aware of the difficulties we now face in relation to the transfer of Policing and Justice powers from London to here. Thirteen months ago Peter Robinson and I agreed a process which would see this happen and once more I quote 'without undue delay'. 
"The people Sinn Féin represents have the confidence to support us in moving forward. 
"The DUP keep harping on about community confidence. Fair enough, but I must make it crystal clear that the eight-page letter, which I believe is loaded with preconditions, sent by Peter Robinson to the British Prime Minister, was neither seen or agreed by me, his partner in government, as part of our agreed process paper. 
"Therefore I believe that publication of this letter is both reasonable and essential. The entire community is entitled to know what is in that letter. I am now calling on Peter Robinson to make the public aware of its contents.  
"Peter Robinson in a recent statement sought to portray our party as being in denial about our position on Policing and Justice and sought to bolster his argument by saying that the British, Irish and American governments all signaled that his party conference remarks were positive and constructive.  It's a pity that Peter, in using the governments to support his argument has not taken cognisance of the fact that all three governments are on public record as saying that the devolution of Policing and Justice Powers should have taken place already".
Sara Griffin sang a moving rendition of 'Amhrán na bhFian'