3 December 2009 Edition
Doherty re-selected in West Tyrone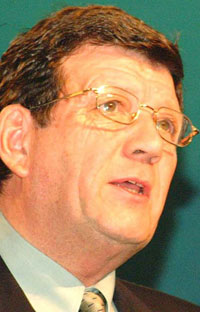 SINN FÉIN MP MLA Pat Doherty has been re-selected to contest the West Tyrone Constituency at the Westminster Election scheduled for next May.
Delegates from Cumainn throughout Omagh and Strabane Comhairle Ceantair areas gathered for the constituency selection convention at the Mellon Country Inn last night at which Pat Doherty secured the party nomination unopposed.
He was nominated by Strabane Sinn Féin Councillor Ruairí Mc Hugh and seconded by Omagh Sinn Féin Councillor Seán Clarke.
"After accepting the nomination Pat Doherty said,
"I am deeply humbled to have been asked by the party membership in West Tyrone to carry the torch for the party in the upcoming Westminster Election contest and look forward to the challenge ahead in terms of retaining the seat for Sinn Féin.
"The strength of the Sinn Féin vote in West Tyrone has been a result of hard work by elected representatives and party membership on a year in year out basis in every part of the constituency. It is also because of the constituency wide team approach we adopt in progressing issues of strategic importance whether that be working on issues to progress our national objectives or working to deliver on issues of key infrastructural, economic, and social benefit for this constituency and its people.
"We will be taking nothing for granted in this upcoming electoral contest in West Tyrone. Our electoral preparations are already well underway and we will be adopting the same strategic and team work approach to this contest as we adopt in every other area of our political and constituency work."
Pat Doherty was first elected to the North's Assembly in 1998 and in subsequent Assembly Elections. He first stood in West Tyrone in 1997 General Election and was first Elected as MP for West Tyrone at the 2001 Westminster Election and once again in 2005 General Election.