3 December 2009 Edition
Pickets say Central Bank defaulted on agreements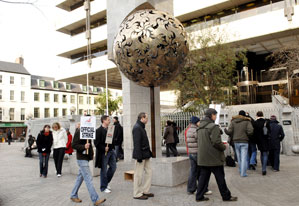 PICKETS were placed all day on the Central Bank on Dame Street in Dublin and at the Office of the Financial Regulator on College Green and the Currency Centre in Sandyford last Friday, 27 November. The picket by 600 members of UNITE the Union is being placed in frustration at management's withdrawal from negotiations over employment contracts.
UNITE said this is in breach of existing agreements and is a rebuke to the Labour Relations Commission who had initiated the discussions.
UNITE Regional Officer Brian Gallagher said:
"The Central Bank and Financial Regulator imposed the pension levy on its workforce earlier in the year despite being legally independent of the Government. The poor treatment of the staff has come despite their working harder than ever to deal with the consequences of inadequate regulatory decisions taken by the regulator and irresponsible practices undertaken by Irish banks.
"To rub salt in the wounds of our members, it is now reported that the new Financial Regulator will be paid an annual salary of €400,000. This represents an increase of €150,000 over that paid to their predecessor and is obscene in light of the treatment of regular staff."