3 December 2009 Edition
Second 24-hour public sector stoppage suspended as talks continue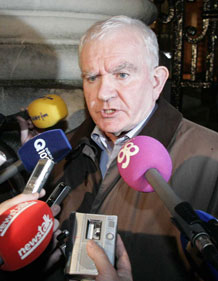 ALMOST at the 11th hour, the Fianna Fáil/Green Party Government averted a second one-day strike in two weeks by 250,000 public sector workers across the 26 Counties today (Thursday 3 December) when they were reportedly reaching agreement with the trade union movement on cost-cutting measures in the face of the recession.
After intensive discussions over several days, union sources said there were "a few loose ends" to be tied up but the Government had conceded there were other ways of addressing the financial crisis other than simply enforcing wage cuts.
As An Phoblacht was going to print on Wednesday, talks between the Government and union leaders were resuming in Government Buildings but the state-wide, 24-hour stoppage by public sector workers and civil servants scheduled for Thursday was suspended on Tuesday evening pending a successful conclusion to the talks this week.
PROGRESS
Speaking to reporters outside Government Buildings on Tuesday evening,  IMPACT public service union General Secretary Peter McLoone announced the strike was being suspended "in the light of the progress that has been made in the negotiations over the last number of days".
The Government, he said, had told trade unions that it is now possible to "design an alternative" to the pay cuts Finance Minister Brian Lenihan had been threatening. Savings could be based on an extra 12 days' unpaid leave taken by the workforce in 2010, it was suggested.
Peter McLoone explained:
"The purpose of putting forward the proposition on the unpaid days was that we would put a considerable part of the foundation that needs to be in place to create the alternative savings."
He said the reason that the unions were going back into negotiations on Wednesday and possibly Thursday was to complete the negotiations on the 2010 problem.
"Part of what we will be doing is dealing with the figures."
He said that a lot of figures about Exchequer savings were being tossed around.
"What we need to do [in the talks] is to look at precisely what the figure is."
He added:
"This stuff is still challenging but, given the progress that we have made to date, the feeling on both sides is that, whatever challenges present, we should be able to overcome them."