3 December 2009 Edition
Remembering the Past: Dick Barrett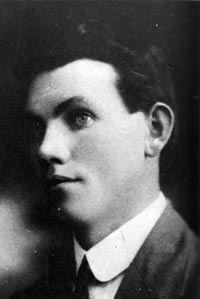 BY MÍCHEÁL Mac DONNCHA
DICK Barrett was one of the leading officers of the IRA in Munster during the Tan War, going on to serve on the IRA's General Headquarters Staff where he was an associate of Michael Collins and Liam Mellows. He opposed the Treaty and was to pay with his life for his allegiance to the Irish Republic.
Born to a farming family at Holyhill, Ballineen, West Cork, Dick Barrett was a studious boy and won a scholarship to a teacher training college. He qualified as a teacher in 1917 and quickly became a principal. He took a prominent role in the GAA in West Cork and played in successful football and hurling teams.
Following the 1916 Rising Dick Barrett helped to reorganise the Volunteers in West Cork. He was a man of action and took part in many IRA operations. Following the capture and torture of his friends and comrades Brigadier Tom Hales and Pat Harte in July 1920, Barrett was appointed Quartermaster of the 3rd (West) Cork Brigade, with Charlie Hurley (later killed near Crossbarry) as Commandant.
The West Cork Brigade was one of the most effective in the country with Tom Barry as Flying Column commander, Liam Deasy as Adjutant and Dick Barrett as Quartermaster. The IRA was desperately short of arms and Barrett devoted much energy to gun-running, trying to ensure that the IRA was equipped to strike further blows such as those at Kilmichael and Crossbarry when the Flying Column overcame the crown forces in engagements that became legendary.
Early in 1921 Barrett was arrested and interned on Spike Island. Despite the Truce in July of that year, hundreds of republican prisoners were still incarcerated. In September the prisoners rioted and Barrett was one of the last to be overcome by the guards. When the republicans were moved out of their cell block they were able to reconnoitre the perimeter of the prison and Barrett immediately began to plan an escape.
DARING ESCAPE
The daring escape plan was put into effect on a stormy night in November 1921 when Barrett and six other IRA prisoners broke out of the fortress jail, cut a rowing boat from a British launch and crossed the treacherous waters to Cobh, from where they made good their escape.
After this escape, Barrett was appointed to the staff of the 1st Southern Division and later GHQ Staff. In April 1922, after the Treaty debates but before the IRA had completely divided, Barrett was in charge of landing a large arms shipment which, according to the late Pax Ó Faoláin, then a senior IRA officer, went to the Six Counties. At the time the pro- and Anti-Treaty IRA were co-operating in assisting the IRA in the North.
Dick Barrett supported the anti-Treaty Army Executive and was appointed Assistant Quartermaster General to his friend Liam Mellows. He was in the Four Courts when it was shelled by Free State forces in June 1922 and was captured and imprisoned in Mountjoy.
In the early hours of 8 December 1922 Barrett, Mellows, Rory O'Connor and Joe McKelvey were awakened in their Mountjoy cells and told that they were to be shot without charge or trial later that morning. Writing to his family, Barrett referred to his comrades:
"I presume that these three great men will pay the full penalty for loving Ireland. They will be a great loss to the cause of Irish freedom. They too, like me, regret that the executioners should be Irishmen. In the past they were English but the cause is the same, holy and triumphant."
To his relatives at Kinsale Junction, Barrett wrote: "I am prepared to die and glad that I die in the same cause as Tone, Emmet, Pearse and Charlie Hurley".
Dick Barrett was executed in Mountjoy Prison, 87 years ago on 8 December 1922.