3 December 2009 Edition
Kelly family withdraws from Historical Enquiries Team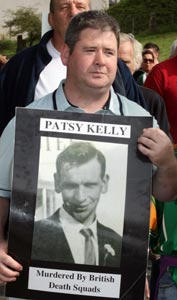 THE family of murdered Tyrone Councillor Patrick Kelly have withdrawn their co-operation from a probe by the Historical Enquiries Team into the 35-year-old killing.
The body of Patrick Kelly, an Independent nationalist councillor, was found in Lough Eyes, near Tempo, in August 1994. The Catholic father of three went missing on his way home from a pub he managed in Trillick.  
His body was discovered tied and weighted in a lough just ten miles from his home. Kelly had been abducted and shot dead before being dumped.
ULSTER DEFENCE REGIMENT
Although the murder was claimed by the UDA, the killing is widely believed to have been carried out by members of the British Army's Ulster Defence Regiment who had been operating a roadblock near Kelly's home at the time.  
David Jordan, a former member of the UDR, claimed he knew details about the murder before he too died in suspicious circumstances in 1999.
A probe into the killing by the HET began two years ago. The Kelly family confirmed this week that they have lost all confidence in the HET investigation and have withdrawn their support.
Patrick Kelly's son, Patsy, called for a fully independent inquiry into his father's murder including allegations of British crown forces collusion.