3 December 2009 Edition
McGuinness meets Taoiseach on policing transfer impasse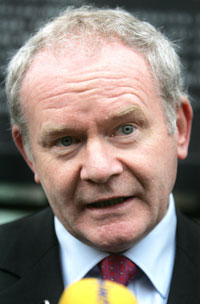 DEPUTY First Minister Martin McGuinness MP, MLA  met at the weekend with An Taoiseach Brian Cowen TD in Tullamore County Offaly. The meeting lasted for over one hour.
Speaking afterwards Martin McGuinness said:
"Today's meeting was both useful and constructive. An Taoiseach and I are both agreed that there can be no preconditions on the transfer of Policing and Justice powers.
"What is required is a date to be agreed prior to Christmas for the transfer to take place and to take effect early in the New Year.
ATTACKS
"I also used today's meeting as an opportunity to register my concern at the ongoing attacks by Peter Robinson, most recently in Derry, on the decision making processes agreed under the terms of both the Good Friday and St Andrews Agreements and that I see these attacks as a very clear example of the failure on the part of the DUP to embrace the equality, partnership and power sharing arrangements which lie at the heart of these agreements.
"It disappoints me to say that Peter Robinson has thus far been found wanting in terms of the proactive leadership being called out for by our people. What we all want to see now is the necessary leadership to be shown by Peter and for him to step up to the mark and to get this job done."