3 December 2009 Edition
Carol singers at Leinster House demand restoration of Christmas Bonus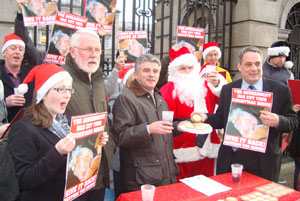 SIN FÉIN spokesperson on social and family affairs Aengus Ó Snodaigh TD joined campaigners for the restoration of the Christmas bonus who gathered at the gates of Leinster House on Tuesday to raise their voices to demand the reversal of what is in effect a cut in the income of those in receipt of long term social welfare payments. Campaigners sang a reworking of Jingle bells demanding the restoration of the bonus.
Ó Snodaigh said:
"The axing of the Christmas bonus was an unjustifiable attack on those who can least afford to absorb cuts in their incomes. It must be reversed. Sinn Féin has shown, in our pre-budget submission, that there is an alternative to the government's agenda of cuts to public services and social welfare. We have shown where the money can be raised to pay for the Christmas Social welfare bonus.
"The Government has decided that those dependent on social welfare are a soft target. They have made a callous calculation that those who will bear the brunt of these cuts don't have access to power or the media and will not mobilise to fight the cuts.
"The government has made a miscalculation. Those whose social welfare benefits are being cut are ready to fight  – they are ready to make their voices heard. Sinn Féin is ready to fight alongside those on low and average incomes, including the unemployed, to combat any move by the government to reduce their incomes and make them pay for the economic mess which is not of their making.
"Economic recovery will not be achieved by driving people into poverty. The recession will deepen if the government persists in taking money from those who spend it on everyday necessities. If these cuts are not resisted we face a prolonged recession with more and more people living in poverty."