3 December 2009 Edition
Another View by Eoin Ó Broin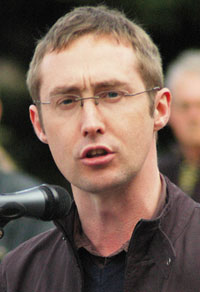 Negotiating the future of the planet
ON Monday, 7 December world leaders will gather in Copenhagen to negotiate the future of our planet.
The UN Climate Change Summit is the most important political event of the year. Unfortunately very few people know that it is happening. Even fewer seem to know what is at stake.
The Summit is the latest in a series of global climate change negotiations seeking to reach agreement on reductions in greenhouse gas emissions.
Despite the fact that behind the scenes talks have been underway for some time almost nobody expects a meaningful agreement to be reached.
There are two major stumbling blocks and a number of small but important issues to be addressed.
The first is the level of the reductions required. Scientists believe that we need to cut our emissions by up to 40% by 2010 and to 80% by 2050 if we are to avoid the worst effects of climate change.
However a recent survey of climate change experts conducted by The Guardian newspaper found that nine out of 10 did not believe that governments were doing enough to reach these targets.
Leaders from the world's richest countries must also agree a financial package to assist developing world countries meet their obligations under any agreement. The logic is simple. The overdeveloped is responsible for most of the greenhouse emissions. Developing world countries can't afford the new technologies required to reduce their emissions. Rich countries must make up the difference.
The location of any such fund is almost as important as its size, as this will determine how the money is used. Developing world countries wanting it located within the United Nations. Rich countries, under pressure from major corporate interests, favour the more pro-market World Bank or the Global Environmental Facility.
Friends of the Earth have been to the forefront of the campaign for a meaningful deal at Copenhagen. They are calling for a 40% reduction by 2020 and for the EU to contribute €35 billion annually over the next decade to offset the costs to the developing world.
In October the environmental group was highly critical of the EU in its failure to commit adequate resources in the run up to Copenhagen.
Sinn Féin MEP Bairbre de Brún, who will be at the Summit next week, has long supported these demands. Last week the European Parliament passed a resolution calling for a legally binding deal with 40% emission reductions by 2020 and 80% by 2050.
While supporting these elements of the resolution de Brún expressed concern at the parliaments support for nuclear power.
The Sinn Féin MEP called on the EU and member states to develop cleaner renewable technologies as the long term alternative to both fossil fuels and nuclear power.
If you are interested in adding your voice to this campaign the log on to the Friends of the Earth website, www.stopclimatechaos.ie, and take action, before its too late.