3 December 2009 Edition
ANTRIM VOLUNTEERS REMEMBERED: Republicans pay tribute to Henry Hogan and Declan Martin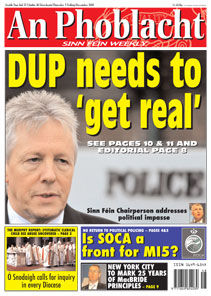 DUP's 'train-wreck' strategy will have political consequences

TWO young IRA Volunteers, Henry Hogan and Declan Martin, who were killed in an engagement with British forces in the mainly nationalist village of Dunloy, north County Antrim, in February 1984, were honoured on Sunday with the re-dedication of a memorial garden where Sinn Féin National Chairperson Declan Kearney was the keynote speaker.
Henry Hogan was just 20 years old and Declan Martin even younger, at 18, when they died on active service.
The young men were described by a comrade in An Phoblacht in the wake of their deaths as "courageous and dedicated Volunteers for whom fear held no meaning and to whom no task was too menial or too great".
On 21 February 1984, an IRA Active Service Unit, including Volunteers Hogan and Martin, ambushed an undercover unit of the British Army in hiding and watching the Hogans' home in Carness Drive, Dunloy. The IRA had discovered the British stake-out and went in to engage the enemy.
The IRA opened fire with a sub-machine gun, an Armalite rifle and a shotgun, killing one British soldier and critically wounding another. A third soldier escaped uninjured.
As Volunteers Hogan and Martin were withdrawing across an open field, they were overtaken by more British soldiers, who had apparently been backing up the three-man surveillance team.
Both Volunteers were shot dead and an eyewitness said he saw one of them being shot while lying on the ground. The British soldiers had emerged from two cars and another witness heard one of the Volunteers shouting for help after he had been wounded.
The field where the Volunteers where shot was cordoned off by the RUC and the bodies were left lying there for over five hours.
It was reported at the time that the British soldier who had died in the ambush, Sergeant Paul Oram, had been involved in the shooting of IRA Volunteers Charles Maguire and George McBrearty in Derry in May 1981.
This is the text of what Declan Kearney said on Sunday.
"AS WE gather today to rededicate this monument in memory of Henry and Declan, almost 300 miles away at this time, in Kilmichael, hundreds of republicans are commemorating one of the greatest battles of the Tan War.
It is a fitting coincidence that we gather to immortalise the memory of these Volunteers in this way on the same day the Kilmichael ambush occurred 89 years ago.
Henry and Declan follow the Volunteers who fought, died and survived at Kilmichael in an unbroken chain of republican struggle. Kilmichael changed the direction of the Tan War; the sacrifice of Henry and Declan inspired a new generation of republican activists from this and neighbouring counties, and renewed the determination of others already involved in the cause of Irish freedom.

What happened in Kilmichael remains inspiring to this day. And in years to come Henry and Declan will be remembered as among the bravest of the brave of our generations.
There is no glory in war: it creates a legacy of loss, grief and pain.
Henry and Declan were young men. They were sons, brothers, cousins, friends, neighbours of extended networks. Popular local lads at the beginning of adulthood, with options and choices in life.
Armed struggle is only an option of last resort.
In Ireland of the 1980s, just as in 1919, no viable political alternatives were available to nationalist and republican people. Armed struggle was the only means available to resist injustice and inequality and to effect political change.
As a direct result of the sacrifice of Henry and Declan and many others, and of the commitment of a risen people, today republicanism has never been bigger, stronger and more powerful since the Tan War.
The IRA leadership said in 2005 new modes and strategies of political struggle are now available to nationalists and republicans.
Today the best place to organise and campaign for Irish freedom is within Sinn Féin.
A war was fought by these generations of republicans. And the IRA fought that war to a conclusion. There is no other IRA today. Nor is there an armed struggle to be finished. Those who choose to masquerade otherwise should disarm and disband.
In recent days, militarist factions have once more attempted futile armed actions. Their activities play directly into the hands of those in the British military system who would wish to remilitarise the North.
Some of those involved in orchestrating these attacks have set remilitarisation as a goal. That is anathema to the republican and nationalist people. It is surely now time to pose the question, what agenda are they serving, and who really is in control of these groups?
These small factions need to understand that there is no support for any activities that will lead to remilitarising the North once more.
Nor is there any acceptable role for British military forces in today's Six Counties. Sinn Féin will not accept the reintroduction of any British military presence or activity, be it undercover or otherwise.
Remilitarisation will undermine The Peace Process. Sinn Féin will oppose any effort to do that. And we will oppose any attempts by militarist factions and those in the British military to push us back into conflict.
Our focus is on continuing to build the momentum for change across the 32 Counties and the achievement of national and democratic objectives.
At the same time we also face significant political challenges in the Six Counties.
The current political impasse is seriously deteriorating because of the role of NIO figures who remain wedded to an anti-republican and pro-unionist agenda. These senior officials are gambling with negotiation on the transfer of policing and justice in a concerted effort to prop up the DUP and undermine Sinn Féin.
Their strategic objective is to hollow out the Good Friday Agreement. There is nothing new in that. This is a rearguard move by the old system to protect the status quo.
And, it is also no accident that in recent weeks those remaining of what we know as the 'political detectives' have once more re-emerged in relation to a series of high-profile repressive raids against Sinn Féin members. These raids are motivated by entrenched counter-insurgency attitudes within the NIO. They are designed to threaten political stability and wrongfoot Sinn Féin strategy.
It is clear that some within the NIO are determined to bring their old war mentality once more into the ascendancy. But they are picking a fight they cannot win.
What the NIO spooks and the PSNI's political detectives have forgotten is that this strategy didn't win the war, and no amount of recycled counter-insurgency tactics will stop the momentum for political change in the Six Counties now.

In recent weeks, all the evidence indicates the DUP have no intention to support the transfer of policing and justice powers. Absolutely nothing suggests this position will change. Their continued intransigence is a serious political mistake. It is a train-wreck political strategy and political consequences will be inevitable.
All of this demonstrates that the impasse over policing and justice is about something deeper than a transfer of powers. It's about whether political unionism is prepared to co-exist with republicans in equality and partnership, and prepared to accept the rights of all citizens – regardless of political allegiance – to equal treatment and parity of esteem. But there will be no retreat from the fundamental principles of the Good Friday Agreement.
Last week, Peter Robinson asserted that the DUP will not walk away from the political institutions.
The question is not whether the DUP will walk away. The really urgent and immediate question is whether the DUP can stay within the institutions and commit to equality and partnership.
The DUP needs to make its mind up now.
There is no test of community confidence required to establish political equality. You either accept equality and democracy or you don't.
So the DUP need to start getting real. They cannot have it both ways.
Equality and partnership threaten no one. They are the foundation stones for any peaceful society.
The guarantees and rights of the Good Friday Agreement and St Andrew's Agreement belong to everyone... nationalists and unionists.
Those rejectionist unionists opposed to the equality agenda are denying absolute rights for ordinary unionists and ordinary nationalists.
That is not acceptable. We will not allow them to succeed.
The fact is that political institutions which fail to protect and deliver equality for all citizens are of no political value to anyone.
And here's a reality check. Equality and partnership isn't negotiable. A future without either is not an option. These generations of nationalists aren't prepared to sit at the back of the bus again.
So, unionist leaders shouldn't cod themselves. No one will be reaching for the handbrake to slow down change or equality in the North.
Unionist supremacy in the past and obstinacy today in the face of change has made equality the political touchstone in the Six Counties, and it can't be air-brushed away. The future of the Northern political institutions now hinges on whether they will be allowed to function on the basis of equality and partnership.
Equality must exist at the heart of every institution, workplace and community. And if 'big house' political unionism has once more abandoned the rights of Protestant citizens then Sinn Féin will seek to offer leadership, outreach and partnership to those communities also.
Henry Hogan and Declan Martin died in pursuit of the timeless vision enunciated by Tone and fought for at Kilmichael – a free Ireland; one which would guarantee equality among Protestant, Catholic and Dissenter.
But their work remains unfinished.
Henry and Declan gave their all to this struggle. Today we rededicate this monument as a lasting memorial to their sacrifice. But the greatest tribute each of us can pay to these Volunteers, 25 years on, is to rededicate ourselves to their republican objectives and leave here re-energised and renewed in our shared commitment to finish the road to freedom."